Skip the ordinary toast toppings and enjoy this herb cheese spread instead. It's a delightful way to start off your day!
Nutrition Facts
Tomato & Ricotta Toast

Calories
127 Per Serving
Protein
12g Per Serving
Fiber
3g Per Serving
Cost Per Serving
$1.03
Nutrition Facts
×
Calories
127
Total Fat
1.0 g
Saturated Fat
0.0 g
Trans Fat
0.0 g
Polyunsaturated Fat
0.0 g
Monounsaturated Fat
0.5 g
Cholesterol
5 mg
Sodium
236 mg
Total Carbohydrate
16 g
Dietary Fiber
3 g
Sugars
5 g
Protein
12 g
Dietary Exchanges
1 lean meat, 1 starch
Ingredients
1 cup fat-free ricotta cheese
2 tablespoons chopped green onions, chives, or red onion
3/4 teaspoon dried Italian seasoning, crumbled
1/8 teaspoon pepper (freshly ground preferred)
4 slices whole-grain or whole-wheat bread (lowest sodium available), toasted
2 to 3 medium tomatoes, thickly sliced
Directions
In a small bowl, using a spoon or spatula, stir together the ricotta cheese, green onions, Italian seasoning, and pepper.
Spread 1/4 cup of the ricotta mixture over each slice of toast. Top with the tomato slices.
Tip: Prefer to turn this toast into a hot open-face sandwich for lunch? Simply place the toast on a baking sheet lined with aluminum foil and pop it under the broiler for 1 to 2 minutes, or until the ricotta cheese is melted.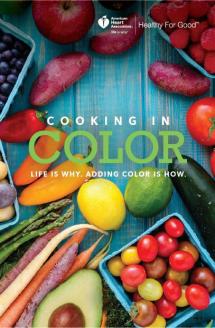 Cooking in Color
This digest-size recipe booklet includes 27 healthful recipes, all including fruits, vegetables, or both. Each recipe is accompanied by a vibrant photograph, and the recipes are organized by color. Also included is a fruit/veggie storage guide and a fruit/veggie equivalency guide.
Shop Heart
Copyright © 2018 American Heart Association, Healthy for Good™. Every purchase helps fund the work of the AHA/ASA.