Luscious strawberries are a different but delectable choice for this salsa, although you can substitute mango or peaches if you prefer. Whatever fruit you choose, the sweet and spicy salsa pairs perfectly with seared chicken breasts. Serve with mild sides to keep the flavor focus on this mealtime star.
Nutrition Facts
Seared Chicken with Strawberry Salsa

Calories
200 Per Serving
Protein
25g Per Serving
Fiber
1g Per Serving
Nutrition Facts
×
Calories
200
Total Fat
7 g
Saturated Fat
1 g
Trans Fat
0 g
Polyunsaturated Fat
1 g
Monounsaturated Fat
2.5 g
Cholesterol
70 mg
Sodium
230 mg
Total Carbohydrate
11 g
Dietary Fiber
1 g
Sugars
6 g
Protein
25 g
Dietary Exchanges
1 carbohydrate, 3 lean meat
Ingredients
Chicken
1/2 tsp. paprika
1/4 tsp. ground allspice

OR

1/4 teaspoon ground cumin
1/4 tsp. salt
1/4 tsp. pepper
4 boneless, skinless chicken breast halves, (about 4 ounces each), all visible fat discarded
Salsa
1 cup diced, hulled strawberries, mango, or peeled peaches
1 medium poblano pepper (seeds and ribs discarded, diced)

OR

3/4 medium green bell pepper (diced)
1/2 cup finely chopped red onion
1/4 cup chopped, fresh mint or cilantro
2 Tbsp. fresh lemon juice
1 Tbsp. sugar
1/8 tsp. crushed red pepper flakes
2 tsp. canola or corn oil
Directions
In a small bowl, stir together the paprika, allspice, salt, and pepper. Sprinkle over the smooth side of the chicken. Using your fingertips, gently press the mixture so it adheres to the chicken. Let stand for 10 minutes.
Meanwhile, in a medium bowl, stir together the salsa ingredients.
In a large skillet, heat the oil over medium-high heat, swirling to coat the bottom. Cook the chicken with the smooth side down for 4 minutes. Turn over. Cook for 2-4 minutes, or until no longer pink in the center.
Serve the salsa with the chicken.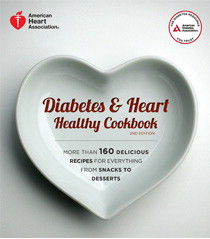 Diabetes & Heart Healthy Cookbook, 2nd edition
The American Heart Association has developed tasty and heart-healthy recipes that meet its dietary recommendations. These recipes are also designed to be consistent with the American Diabetes Association dietary guidelines and will introduce variety into meal plans for anybody looking to eat a more healthful diet.
Sample Recipes:
Salmon Baked with Cucumbers and Dill
Seared Chicken with Strawberry Salsa
Purchase:
This recipe is reprinted with permission from Diabetes & Heart Healthy Cookbook, 2nd Edition. Copyright © 2014 by the American Diabetes Association, Inc.® and American Heart Association. Published by the American Diabetes Association. Available from booksellers everywhere.