Orange Glazed Turkey with Potatoes & Carrots
Try this new Simple Cooking with Heart take on traditional turkey. Its seasoning gives the dish a base of flavor, and orange marmalade adds tangy sweetness. Serve with potatoes and carrots. Enjoy the taste of Thanksgiving year-round!
Ingredients
6 Servings

1.79
Price per serving

257
Calories per serving

0.5 g
Sat. Fat per serving

389 mg
Sodium per serving
View Full Nutrition Info
Directions
Tip: Click on step to mark as complete.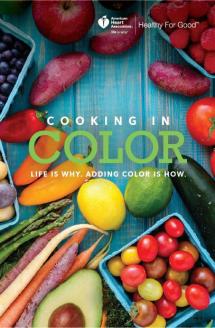 Like the Recipe? It and Many Others are Available in the Cookbook Below:
Purchase Cooking in Color
Copyright © 2018 American Heart Association, Healthy For GoodTM, heart.org/healthyforgood Every purchase helps fund the work of the AHA/ASA.
Calories
257
Total Fat
3.5 g
Saturated Fat
0.5 g
Trans Fat
0.0 g
Polyunsaturated Fat
0.5 g
Monounsaturated Fat
2.0 g
Cholesterol
76 mg
Sodium
389 mg
Total Carbohydrate
23 g
Dietary Fiber
3 g
Sugars
7 g
Protein
32 g
Dietary Exchanges
4 lean meat, 1 starch, 1 vegetable
Please sign in to add recipes to your Recipe Box.
Log In