Seared Chicken with Strawberry Salsa
Luscious strawberries are a different but delectable choice for this salsa, although you can substitute mango or peaches if you prefer. Whatever fruit you choose, the sweet and spicy salsa pairs perfectly with seared chicken breasts. Serve with mild sides to keep the flavor focus on this mealtime star.
Ingredients
4 Servings
Directions
Tip: Click on step to mark as complete.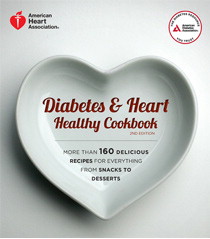 Like the Recipe? It and Many Others are Available in the Cookbook Below:
Diabetes & Heart Healthy Cookbook
Calories
200
Total Fat
7 g
Saturated Fat
1 g
Trans Fat
0 g
Polyunsaturated Fat
1 g
Monounsaturated Fat
2.5 g
Cholesterol
70 mg
Sodium
230 mg
Potassium
590 mg
Total Carbohydrate
11 g
Dietary Fiber
1 g
Sugars
6 g
Protein
25 g
Dietary Exchanges
1 carbohydrate, 3 lean meat
Please sign in to add recipes to your Recipe Box.
Log In