Overnight No-Cook Banana Oatmeal
For a weekday morning rush, you'll be glad you prepared this breakfast recipe the evening before. Or, let your child take the reins and mix the oatmeal together.
Ingredients
4 Servings

1.88
Price per serving

443
Calories per serving

1.4 g
Sat. Fat per serving

68 mg
Sodium per serving
View Full Nutrition Info
collapse
Quick Tips

Cooking Tip: Play around with the combination of oats to milk ratio. Like an oatmeal with a thicker consistency? Use more oats. Prefer it liquidy? Go higher on the milk.

Keep it Healthy: Add a variety of goodies into the oatmeal when preparing it the night before like dried fruit, unsweetened coconut, pumpkin seeds, flax seeds, chia seeds, etc. Chopped fresh fruit, like bananas, go brown if added the night before; it's best to top with fresh fruit right before eating.

Tip: Baking raw, dry oats for 1 hour at 250F can help make sure foods are safe and prevent food-born illnesses.

Tip: Natural sweeteners such as maple syrup or honey are a great way to add a touch of sweetness instead of sugar. Even a little bit of fruit juice like orange juice can provide sweetness.
Directions
Tip: Click on step to mark as complete.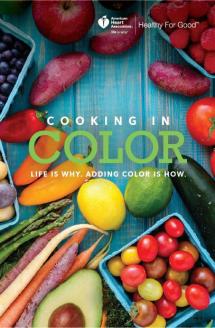 Like the Recipe? It and Many Others are Available in the Cookbook Below:
Purchase Cooking in Color
Copyright © 2018 American Heart Association, Healthy For GoodTM, heart.org/healthyforgood Every purchase helps fund the work of the AHA/ASA.
Calories
443
Total Fat
9.7 g
Saturated Fat
1.4 g
Trans Fat
0.0 g
Polyunsaturated Fat
3.2 g
Monounsaturated Fat
4.2 g
Cholesterol
3 mg
Sodium
68 mg
Total Carbohydrate
74 g
Dietary Fiber
10 g
Sugars
21 g
Protein
18 g
Dietary Exchanges
1 fat-free milk, 1 fruit, 3 starch
Please sign in to add recipes to your Recipe Box.
Log In