Berry Nuts Granola Bars
Granola bars aren't just easy to make, they can also be sculpted based on your tastes. Add anything from sunflower seeds to flaked unsweetened coconut to a variety of nuts and nut butters. Even a tablespoon or two of chocolate chips can be thrown into the mix to entice kids.
Ingredients
12 Servings

1
Serving size

180
Calories per serving

1.1 g
Sat. Fat per serving

56.5 mg
Sodium per serving
View Full Nutrition Info
collapse
Quick Tips

Cooking Tip: When measuring sticky items like maple syrup or honey, coat the measuring cup with cooking spray first so the honey or maple syrup comes out easily.

Keep it Healthy: Experiment with a variety of nuts and nut butters in this recipe. Also, honey can be subbed for maple syrup.

Tip: Unsweetened freeze-dried fruit can be substituted for dried cranberries. Roughly chop 1 cup freeze-dried blueberries and/ or strawberries and fold into the granola bar mixture right at the end before pouring into the pan.
Directions
Tip: Click on step to mark as complete.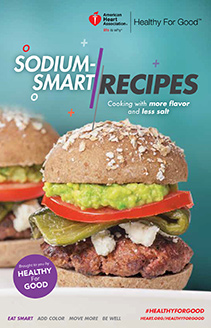 Like the Recipe? It and Many Others are Available in the Cookbook Below:
Sodium Smart Recipe Magazine
Copyright © 2018 American Heart Association, Healthy For GoodTM, heart.org/healthyforgood
Calories
180
Total Fat
9.0 g
Saturated Fat
1.1 g
Trans Fat
0.0 g
Polyunsaturated Fat
2.2 g
Monounsaturated Fat
4.3 g
Cholesterol
0.0 mg
Sodium
56.5 mg
Total Carbohydrate
21.5 g
Dietary Fiber
4.2 g
Sugars
6.7 g
Protein
5.4 g
Dietary Exchanges
1 1/2 fat, 1/2 other carbohydrate, 1 starch
Please sign in to add recipes to your Recipe Box.
Log In