Grilled Fruit Kebabs with Balsamic Drizzle
Threading fruit onto skewers creates a fun-looking dessert for kids and adults alike. A balsamic-honey glaze adds sweet tartness.
Ingredients
4 Servings

199
Calories per serving

0.3 g
Sat. Fat per serving

5.2 mg
Sodium per serving
View Full Nutrition Info
collapse
Quick Tips

Cooking Tip: Cutting the fruit into thick pieces to wedge onto the skewers helps ensure that they stay put during the grilling process.

Keep it Healthy: Consider a twist on the fruit salad by grilling large slices of fruit like watermelon, pineapple, peaches, pears, mangos and more. Chop and toss with a bit of olive oil and lime juice for a fruit salad.

Tip: It's easier to buy containers of already chopped fruit like watermelon and pineapple in a pinch; however, sometimes it's cheaper to buy an entire pineapple or a halved watermelon and chop it yourself.
Directions
Tip: Click on step to mark as complete.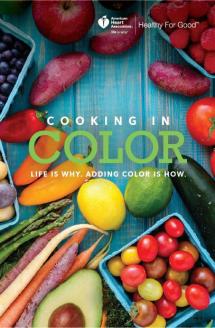 Like the Recipe? It and Many Others are Available in the Cookbook Below:
Purchase Cooking in Color
Copyright © 2018 American Heart Association, Healthy For GoodTM, heart.org/healthyforgood Every purchase helps fund the work of the AHA/ASA.
Calories
199
Total Fat
4.1 g
Saturated Fat
0.3 g
Trans Fat
0.0 g
Polyunsaturated Fat
1.2 g
Monounsaturated Fat
2.2 g
Cholesterol
0.0 mg
Sodium
5.2 mg
Potassium
0.0 mg
Total Carbohydrate
43.1 g
Dietary Fiber
5.3 g
Sugars
29.9 g
Added Sugars
0 g
Protein
2.4 g
Calcium
0 mg
Dietary Exchanges
1 fat, 3 fruit
Please sign in to add recipes to your Recipe Box.
Log In