Ginger-Pumpkin Bisque
Fresh ginger adds a delightful kick to this bisque that delivers on richness without the fat of heavy cream. To turn this into an appetizer for the holidays, consider adding a mound of fresh crabmeat to the center of each soup.
Ingredients
4 Servings

1 1/2 cup
Serving size

138
Calories per serving

0.2 g
Sat. Fat per serving

199 mg
Sodium per serving
View Full Nutrition Info
collapse
Quick Tips

Cooking Tip: If you can't find gingerroot, substitute the 3/4 tablespoon fresh ginger with 1/2 teaspoon ground ginger.

Keep it Healthy: Ginger—fresh or ground—is a great spice to incorporate into as many recipes as possible. With anti-inflammatory properties, ginger has long been used as a natural way to treat a host of stomach ailments. Add into smoothies, stir-fries, cookies, and more.

Tip: Chop the onion into a very fine dice; if not, consider pureeing the mixture at the end if the chopped onion pieces are too big.
Directions
Tip: Click on step to mark as complete.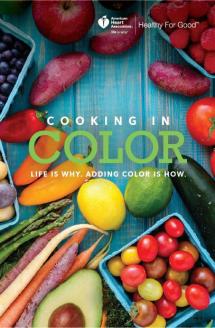 Like the Recipe? It and Many Others are Available in the Cookbook Below:
Purchase Cooking in Color
Copyright © 2018 American Heart Association, Healthy For GoodTM, heart.org/healthyforgood Every purchase helps fund the work of the AHA/ASA.
Calories
138
Total Fat
2.7 g
Saturated Fat
0.2 g
Trans Fat
0.0 g
Polyunsaturated Fat
0.5 g
Monounsaturated Fat
1.1 g
Cholesterol
1.2 mg
Sodium
199 mg
Potassium
0 mg
Total Carbohydrate
26.5 g
Dietary Fiber
9.8 g
Sugars
14.0 g
Added Sugars
0 g
Protein
6.1 g
Calcium
0 mg
Dietary Exchanges
1/2 fat, 1 1/2 starch, 1 vegetable
Please sign in to add recipes to your Recipe Box.
Log In