Sweet & Sour Pork
Better than take-out, this savory dish of pork, pineapple, snow peas, and carrots will have you licking your plate.
Ingredients
6 Servings
collapse
Quick Tips

Cooking Tip: To prepare the snow peas, use a knife to trim each end of the pea, which will allow you to easily remove (and discard) the string on the top of each snow pea.

Keep it Healthy: Tossing slices of raw meat and marinade with cornstarch, like in this recipe, is an easy and healthy way to turn a marinade into a thickened sauce once it cooks.

Tip: Sugar snap peas, a cross between garden peas and snow peas, can also be used in the recipe. Just note that they take a little longer to cook and to add a few minutes of sautéing time before incorporating the pork.

Tip: 1.5 cups sweet and sour pork + 3/4 cup brown rice
Directions
Tip: Click on step to mark as complete.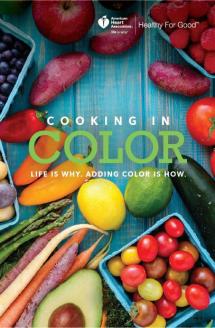 Like the Recipe? It and Many Others are Available in the Cookbook Below:
Purchase Cooking in Color
Copyright © 2018 American Heart Association, Healthy For GoodTM, heart.org/healthyforgood Every purchase helps fund the work of the AHA/ASA.
Calories
339
Total Fat
4.4 g
Saturated Fat
1.0 g
Trans Fat
0.0 g
Polyunsaturated Fat
1.1 g
Monounsaturated Fat
1.9 g
Cholesterol
61.4 mg
Sodium
183 mg
Potassium
0 mg
Total Carbohydrate
49.3 g
Dietary Fiber
5.3 g
Sugars
16.8 g
Added Sugars
0 g
Protein
24.0 g
Calcium
0 mg
Dietary Exchanges
1 fruit, 2 1/2 lean meat, 2 starch, 1 vegetable
Please sign in to add recipes to your Recipe Box.
Log In