For just a little longer than it takes to bring a can of tomato soup to a boil, whip up this tomato soup that is much lower in sodium—and much tastier too. The addition of fresh basil bumps the flavor of this soup up a notch.
Nutrition Facts
Tomato Basil Soup

Calories
78.7 Per Serving
Protein
4.7g Per Serving
Fiber
1.8g Per Serving
Nutrition Facts
×
Calories
78.7
Total Fat
0.1 g
Saturated Fat
0.1 g
Trans Fat
0.0 g
Polyunsaturated Fat
0.0 g
Monounsaturated Fat
0.0 g
Cholesterol
1.6 mg
Sodium
212 mg
Total Carbohydrate
14 g
Dietary Fiber
1.8 g
Sugars
10.4 g
Added Sugars
0 g
Protein
4.7 g
Dietary Exchanges
2 vegetable, 1/2 fat-free milk
Ingredients
3 can no-salt-added, diced tomatoes
2 cups skim milk
1/2 teaspoon garlic powder
1/8 teaspoon salt
1/2 teaspoon ground black pepper
1 1/2 cups fresh basil leaves, plus more to garnish if desired
1/2 teaspoon baking soda
Directions
In a medium or large heavy-duty pot, add tomatoes, milk, garlic powder, salt, and pepper.
Bring mixture to a boil over high heat; reduce heat to medium or low so mixture is at a simmer. Let soup simmer for 15 minutes. Stir in basil leaves; cook another 5 minutes.
Remove soup from the heat. Stir in baking soda (which will make the soup foam for a minute). Using a handheld immersion blender, carefully puree the hot mixture until smooth. (Alternatively, very carefully add hot mixture into a food processor or blender in batches to puree) Ladle soup into bowls, garnishing with extra basil, if desired.
Cooking Tip: Don't have fresh basil? Just stir in 2 teaspoons dried basil at the start of the recipe, along with the garlic powder.
Keep it Healthy: Many canned tomatoes are packed with extra sodium; make sure to look on the label for tomatoes with no salt added.
Tip: Stirring in a touch of baking soda into the soup once it is off the heat is a trick to reduce the acidity from the tomatoes—just a tiny step that greatly improves the soup's flavor.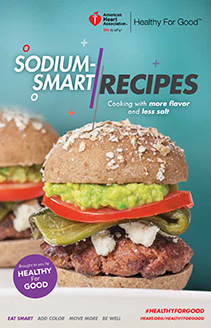 Sodium-Smart Recipes
This digest-sized booklet contains 28 recipes and photographs. It also contains information on how sodium affects overall health, a reference guide for sodium-free flavorings and provides American Heart Association's dietary recommendations.
Shop Heart