Pork and Butternut Squash Chili
With a lean cut of pork and a massive amount of nutrients from winter squash, this chili delivers on all levels. Make a batch for a sports viewing party; no one will be the wiser of its health benefits.
Ingredients
8 Servings
collapse
Quick Tips

Cooking Tip: Can't find cooked winter squash in the freezer aisle? Just substitute 2 (15-ounce) cans pumpkin puree.

Keep it Healthy: Butternut squash has a massive amount of Vitamin A, which aids in good vision and a healthy immune system. Stirring thawed frozen purees into a variety of chilis and stews is an easy way to add nutrients into meals.

Tip: Tweak the chili powder and jalapeno amounts, depending on spice preference.
Directions
Tip: Click on step to mark as complete.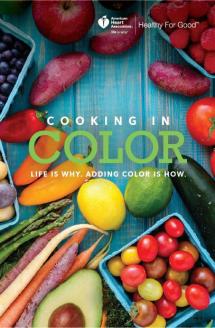 Like the Recipe? It and Many Others are Available in the Cookbook Below:
Purchase Cooking in Color
Copyright © 2018 American Heart Association, Healthy For GoodTM, heart.org/healthyforgood Every purchase helps fund the work of the AHA/ASA.
Calories
301
Total Fat
5.4 g
Saturated Fat
1.0 g
Trans Fat
0.0 g
Polyunsaturated Fat
1.1 g
Monounsaturated Fat
2.1 g
Cholesterol
73.7 mg
Sodium
148 mg
Potassium
0 mg
Total Carbohydrate
33.0 g
Dietary Fiber
9.1 g
Sugars
5.7 g
Added Sugars
0 g
Protein
31.2 g
Calcium
0 mg
Dietary Exchanges
3 1/2 lean meat, 2 starch, 1 vegetable
Please sign in to add recipes to your Recipe Box.
Log In