Seared Beef Sirloin and Grilled Peaches with Feta Cheese and Basil
Not only are the grilled or broiled peach halves served on a bed of arugula with the sirloin a beauty to behold when serving, the sweetness of the fruit complements the meatiness of the beef.
Ingredients
4 Servings

270
Calories per serving

2.5 g
Sat. Fat per serving

279 mg
Sodium per serving
View Full Nutrition Info
collapse
Quick Tips

Cooking Tip: This recipe can also easily be accomplished using the oven. Sauté the steak over medium-high heat about 4 to 5 minutes per side for medium-rare doneness. Add the peaches cut-side-up to a foil-lined baking sheet; cook in the broiler until tender, about 6 minutes.

Keep it Healthy: You don't always needs a dose of veggies to add nutrients to a meal. Consider fruit as well, whether adding slices to a salad or roasting fruit like apples as a side.

Tip: Feel free to substitute plums for the peaches—just use 2 plums for each peach.
Directions
Tip: Click on step to mark as complete.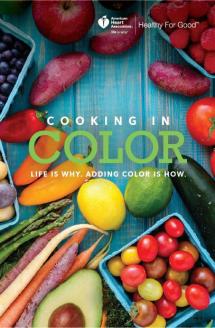 Like the Recipe? It and Many Others are Available in the Cookbook Below:
Purchase Cooking in Color
Copyright © 2018 American Heart Association, Healthy For GoodTM, heart.org/healthyforgood Every purchase helps fund the work of the AHA/ASA.
Calories
270
Total Fat
9.0 g
Saturated Fat
2.5 g
Trans Fat
0.1 g
Polyunsaturated Fat
1.5 g
Monounsaturated Fat
4.6 g
Cholesterol
62.1 mg
Sodium
279 mg
Potassium
0 mg
Total Carbohydrate
20.1 g
Dietary Fiber
2.4 g
Sugars
17.5 g
Added Sugars
0 g
Protein
28.1 g
Calcium
0 mg
Dietary Exchanges
1/2 other carbohydrate, 1 fruit, 3 lean meat
Please sign in to add recipes to your Recipe Box.
Log In