Summer Veggie Pizza with Cauliflower Crust
Cauliflower will become your new favorite vegetable as it is used to create a pizza crust brimming with more fiber and nutrients than dough. With this creation or any of the other ideas in the tips, pizza is turned from an indulgence into a healthy option.
Ingredients
4 Servings
For the cauliflower crust:
For the sauce and toppings:

190
Calories per serving

0.4 g
Sat. Fat per serving

351 mg
Sodium per serving
View Full Nutrition Info
collapse
Quick Tips

Cooking Tip: For a whole-wheat pizza, use 1 (20-ounce) whole wheat pizza dough ball. Preheat oven to 500°F. Stretch the dough to fit a greased large baking sheet and cooked until golden, about 15 minutes. Cover with toppings, again cooking in the oven briefly until cheese melts.

Keep it Healthy: Another way to get a healthy pizza dinner on the table even quicker than with the cauliflower crust is to use whole-wheat pita bread. Place pitas onto a foiled and greased baking sheet, topping with the tomato sauce—use more tomato sauce than with the cauliflower pizza, around ¾ cup to 1 cup—and pile high with cooked vegetables and cheese. Bake in a 425°F oven until pita is crispy, about 15 to 20 minutes.

Tip: Use any remaining cauliflower purée to toss in with a grain for a future night's dinner or to sprinkle into salads.
Directions
Tip: Click on step to mark as complete.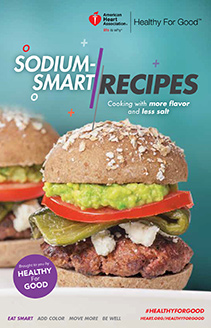 Like the Recipe? It and Many Others are Available in the Cookbook Below:
Sodium Smart Recipe Magazine
Copyright © 2018 American Heart Association, Healthy For GoodTM, heart.org/healthyforgood
Calories
190
Total Fat
4.9 g
Saturated Fat
0.4 g
Trans Fat
0.0 g
Polyunsaturated Fat
0.8 g
Monounsaturated Fat
1.5 g
Cholesterol
7.0 mg
Sodium
351 mg
Total Carbohydrate
24.3 g
Dietary Fiber
7.1 g
Sugars
9.8 g
Protein
15.6 g
Dietary Exchanges
1 lean meat, 4 vegetable
Please sign in to add recipes to your Recipe Box.
Log In