Not only are the grilled or broiled peach halves served on a bed of arugula with the sirloin a beauty to behold when serving, the sweetness of the fruit complements the meatiness of the beef.
Nutrition Facts
Seared Beef Sirloin and Grilled Peaches with Feta Cheese and Basil

Calories
270 Per Serving
Protein
28.1g Per Serving
Fiber
2.4g Per Serving
Nutrition Facts
×
Calories
270
Total Fat
9.0 g
Saturated Fat
2.5 g
Trans Fat
0.1 g
Polyunsaturated Fat
1.5 g
Monounsaturated Fat
4.6 g
Cholesterol
62.1 mg
Sodium
279 mg
Total Carbohydrate
20.1 g
Dietary Fiber
2.4 g
Sugars
17.5 g
Added Sugars
0 g
Protein
28.1 g
Dietary Exchanges
1 fruit, 1/2 other carbohydrate, 3 lean meat
Ingredients
4 peaches (halved, pit removed)
1 tablespoon canola oil
1 (1 pound) top sirloin (about 1 1/2 inch thick)
1/4 teaspoon salt
1/4 teaspoon ground black pepper
1 tablespoon honey
2 cups arugula or spring mix greens
1 tablespoon balsamic vinegar
2 tablespoon fat-free feta cheese
3 tablespoon sliced basil leaves
Directions
Preheat the grill to medium-high heat. Halve each peach; remove and discard the pits.
Using a brush, lightly brush the oil on both the steak and each peach half. Season the steak with salt and pepper. Drizzle the honey over the peaches.
Add steak to the grill. Cook about 8 to 10 minutes per side for medium-rare doneness. Meanwhile, add peaches to grill cut-side-down; cook peaches until fork-tender, about 3 to 4 minutes per side.
When done, remove steak and let rest 10 minutes before slicing it. On a large platter, make a layer with the greens. Top with the grilled peach halves. Drizzle the peaches with vinegar and top with feta cheese and basil. Serve with steak.
Cooking Tip: This recipe can also easily be accomplished using the oven. Sauté the steak over medium-high heat about 4 to 5 minutes per side for medium-rare doneness. Add the peaches cut-side-up to a foil-lined baking sheet; cook in the broiler until tender, about 6 minutes.
Keep it Healthy: You don't always needs a dose of veggies to add nutrients to a meal. Consider fruit as well, whether adding slices to a salad or roasting fruit like apples as a side.
Tip: Feel free to substitute plums for the peaches—just use 2 plums for each peach.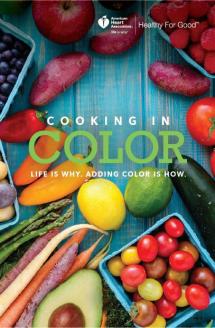 Cooking in Color
This digest-size recipe booklet includes 27 healthful recipes, all including fruits, vegetables, or both. Each recipe is accompanied by a vibrant photograph, and the recipes are organized by color. Also included is a fruit/veggie storage guide and a fruit/veggie equivalency guide.
Shop Heart
Copyright © 2018 American Heart Association, Healthy for Good™. Every purchase helps fund the work of the AHA/ASA.