Grab-and-Go Breakfast Pitas - Delicious Decisions
No waiting in a drive-through line for these portable pitas! The protein and whole wheat will keep you going through the morning—without the saturated fat, cholesterol, and sodium of fast food.


Ingredients
4 Servings

148
Calories per serving

0.5 g
Sat. Fat per serving

425 mg
Sodium per serving
View Full Nutrition Info
collapse
Quick Tips

Tip: Soybeans provide easily digested high-quality protein and essential amino acids. Meat-free soy-based products that replace sausage, bacon, and burgers offer all the taste without the fat.

Tip: Serving size 1 stuffed pita half.
Directions
Tip: Click on step to mark as complete.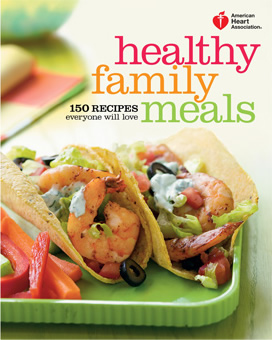 Like the Recipe? It and Many Others are Available in the Cookbook Below:
American Heart Association Healthy Family Meals
Calories
148
Total Fat
2.5 g
Saturated Fat
0.5 g
Trans Fat
0.0 g
Polyunsaturated Fat
1.0 g
Monounsaturated Fat
1.0 g
Cholesterol
0 mg
Sodium
425 mg
Total Carbohydrate
20 g
Dietary Fiber
3 g
Sugars
2 g
Protein
12 g
Dietary Exchanges
1 1/2 starch, 1 1/2 very lean meat
Please sign in to add recipes to your Recipe Box.
Log In