With a rainbow of colorful vegetables and a tangy Asian dressing, this salad makes it easy to eat your veggies.
Nutrition Facts
Asian Marinated Vegetable Salad with Citrus Vinaigrette

Calories
137 Per Serving
Protein
3g Per Serving
Fiber
4g Per Serving
Cost Per Serving
$2.10
Nutrition Facts
×
Calories
137
Total Fat
5.5 g
Saturated Fat
0.5 g
Trans Fat
0.0 g
Polyunsaturated Fat
1.0 g
Monounsaturated Fat
3.5 g
Cholesterol
0 mg
Sodium
90 mg
Total Carbohydrate
21 g
Dietary Fiber
4 g
Sugars
13 g
Protein
3 g
Dietary Exchanges
1/2 fruit, 2 vegetable, 1 fat
Ingredients
For the Asian Marinated Vegetable Salad:
1 cup sugar snap peas (trimmed)
1 cup fresh broccoli (cut into bite-size pieces)
3 medium carrots (sliced)
3/4 small red onion (cut into thin strips)
1 medium diced tomato

OR

1 14.5-ounce can no-salt-added or low-sodium diced tomatoes, drained
1 medium orange, peeled and diced

OR

canned mandarin oranges in lite syrup or own juice, drained, rinsed
2 tablespoons unsalted sliced almonds or chopped walnuts
1 teaspoon sesame seeds (optional)
For the Citrus Vinaigrette:
1/2 cup 100% orange juice

OR

Juice of 2 medium oranges
1/4 cup fresh cilantro

OR

2 tablespoons dried cilantro (crumbled)
Juice of 1 medium lime

OR

1 tablespoon bottled lime juice
1 tablespoon olive oil (extra virgin preferred)
1 teaspoon honey
1 teaspoon Dijon mustard (lowest sodium available)
1/2 teaspoon soy sauce (lowest sodium available)
1 teaspoon grated, peeled gingerroot

OR

1/2 teaspoon ground ginger
Directions
For the Asian Marinated Vegetable Salad:
In a large glass bowl, toss together the salad ingredients.
For the Citrus Vinaigrette:
In a food processor or blender, process the vinaigrette ingredients. (If using the dried cilantro and ground ginger, you can whisk together the ingredients in a bowl.) Pour the dressing over the salad, tossing to coat. Cover and refrigerate for at least 4 hours.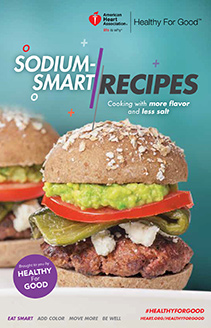 Sodium-Smart Recipes
This digest-sized booklet contains 28 recipes and photographs. It also contains information on how sodium affects overall health, a reference guide for sodium-free flavorings and provides American Heart Association's dietary recommendations.
Shop Heart