This Simple Cooking with Heart Asian salad is a really delicious way to eat more vegetables may become your new favorite salad!
Nutrition Facts
Asian Marinated Vegetable Salad with Citrus Vinaigrette

Calories
137 Per Serving
Protein
3g Per Serving
Fiber
4g Per Serving
Cost Per Serving
$2.10
Nutrition Facts
×
Calories
137
Total Fat
5.5 g
Saturated Fat
0.5 g
Trans Fat
0.0 g
Polyunsaturated Fat
1.0 g
Monounsaturated Fat
3.5 g
Cholesterol
0.0 mg
Sodium
90 mg
Total Carbohydrate
21 g
Dietary Fiber
4 g
Sugars
13 g
Protein
3 g
Ingredients
For the Asian Marinated Vegetable Salad:
1 cup sugar snap peas
1 cup fresh broccoli (cut into bite-size pieces)
3 medium carrots (cut into bite-size pieces)
3/4 small red onion (cut into thin strips)
1 medium diced tomato

OR

14.5 oz canned, no-salt-added or low-sodium, diced tomatoes, drained
1 medium orange

OR

canned mandarin oranges in lite syrup or own juice, drained, rinsed
2 Tbsp chopped, unsalted, unoiled almond slices or walnuts
1 tsp sesame seeds (optional)
For the Citrus Vinaigrette:
1/2 cup sugar-free, 100% orange juice

OR

juice from 2 medium oranges
1/4 cup fresh cilantro

OR

2 Tbsp dried cilantro
juice from 1 lime

OR

1 Tbsp lime juice
1 Tbsp extra virgin olive oil
1 tsp honey
1 tsp Dijon mustard
1/2 tsp low-sodium soy sauce
1 tsp fresh, grated ginger

OR

1/2 tsp ground ginger
Directions
For the Asian Marinated Vegetable Salad:
Toss remaining ingredients with 3/4 cup vinaigrette and chill for at least 4 hours.
For the Citrus Vinaigrette:
Combine orange juice, cilantro,lime juice, olive oil, honey, mustard, soy sauce and ginger in blender and process until smooth, set aside and chill. If using dried cilantro and ginger, you can whisk in a bowl.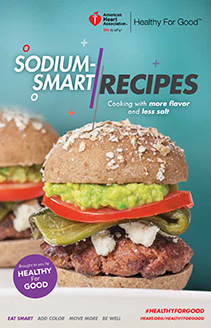 Sodium-Smart Recipes
This digest-sized booklet contains 28 recipes and photographs. It also contains information on how sodium affects overall health, a reference guide for sodium-free flavorings and provides American Heart Association's dietary recommendations.
Shop Heart