This Simple Cooking with Heart recipe is a fun Thai dinner for you -- a no-cook, super tasty salad that you can put together quickly and serve as the main dish for your meal.
Nutrition Facts
Thai Chicken Broccoli Salad with Peanut Dressing

Calories
268 Per Serving
Protein
27g Per Serving
Fiber
7g Per Serving
Cost Per Serving
Nutrition Facts
×
Calories
268
Total Fat
8.0 g
Saturated Fat
2.0 g
Trans Fat
0.0 g
Polyunsaturated Fat
1.5 g
Monounsaturated Fat
3.5 g
Cholesterol
70 mg
Sodium
347 mg
Total Carbohydrate
23 g
Dietary Fiber
7 g
Sugars
13 g
Protein
27 g
Ingredients
Peanut Dressing
2 Tbsp. no-salt-added natural peanut butter
2 tsp. low-sodium soy sauce
1 Tbsp. lemon juice or vinegar
2-3 Tbsp. water
Thai Chicken and Broccoli Salad
2 cups fresh, chopped broccoli

OR

12 oz. packaged, frozen broccoli florets
2 cup boneless, skinless chicken (from breast meat of a rotisserie chicken)

OR

20 oz. salt-free white meat chicken (drained)
15 oz. canned, no-salt-added, or, low-sodium sweet peas (drained)
11 oz. canned, slices mandarin oranges in own juices or light syrup, drained, rinsed
1/4 cup onion, white, yellow or green, chopped
Directions
Peanut Dressing
In a small bowl, add peanut butter, soy sauce, and lemon juice.
Add enough water to make the dressing thinner, about 2 to 3 tablespoons of water. Use a fork or a whisk to combine dressing.
Thai Chicken and Broccoli Salad
Add broccoli, chicken, peas, mandarin orange and chopped onion into a large bowl.
Add dressing to salad, tossing to combine.
Cooking Tip: Some peanut butter brands are thicker than others; so more water may be needed to thin out the dressing.
Keep it Healthy: If using fresh broccoli, also chop up the broccoli stems. It tastes good and is full of vitamins.
Tip: Buying a pre-cut package of broccoli is a time-saver but also slightly more expensive.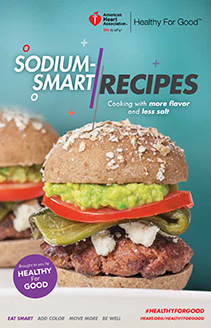 Sodium-Smart Recipes
This digest-sized booklet contains 28 recipes and photographs. It also contains information on how sodium affects overall health, a reference guide for sodium-free flavorings and provides American Heart Association's dietary recommendations.
Shop Heart