This treat on a stick tastes rich and creamy, but it's heart healthy thanks to fat-free dairy and "good" fats from the avocado. This decadent dessert is low in added sugar but high in flavor.
Nutrition Facts
Avocado Green Tea Ice Pops

Calories
107 Per Serving
Protein
4g Per Serving
Fiber
3g Per Serving
Nutrition Facts
×
Calories
107
Total Fat
5.0 g
Saturated Fat
1.0 g
Trans Fat
0.0 g
Polyunsaturated Fat
0.5 g
Monounsaturated Fat
3.5 g
Cholesterol
1 mg
Sodium
27 mg
Total Carbohydrate
13 g
Dietary Fiber
3 g
Sugars
8 g
Protein
4 g
Dietary Exchanges
1 other carbohydrate, 1/2 lean meat, 1/2 fat
Ingredients
1 medium avocado, halved and pitted
1 medium banana, peeled, and coarsely chopped
1 cup fat-free milk
1/2 cup fat-free plain Greek yogurt
1 tablespoon green tea matcha powder
1 tablespoon honey
Directions
Put all the ingredients in a food processor or blender. Process until the mixture is smooth.
Carefully pour the mixture into six 4-ounce ice pop molds. Insert wooden ice pop sticks. Freeze until firm, at least 8 hours.
Just before serving, remove from the freezer. Run the exterior of the ice pop molds under warm water to loosen the ice pops and detach them from the molds.
Cooking Tip: When measuring sticky ingredients, such as honey or peanut butter, lightly spray the spoon or cup with cooking spray. The ingredient will slide right off the spoon or out of the cup.
Tip: Avocados are a versatile, healthy fruit to have on hand. When you need one to ripen quickly, put the avocado in a paper bag with a banana. Seal the bag tightly. The banana produces ethylene gas (a plant hormone that encourages ripening). Let the bag stand overnight or up to 24 hours to speed up the ripening process.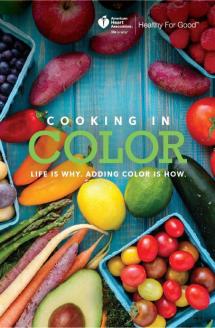 Cooking in Color
This digest-size recipe booklet includes 27 healthful recipes, all including fruits, vegetables, or both. Each recipe is accompanied by a vibrant photograph, and the recipes are organized by color. Also included is a fruit/veggie storage guide and a fruit/veggie equivalency guide.
Shop Heart
Copyright © 2018 American Heart Association, Healthy for Good™. Every purchase helps fund the work of the AHA/ASA.