This grown-up popsicle is made creamy from the combination of avocado and yogurt. It tastes indulgent without many calories attached to it.
Nutrition Facts
Avocado-Green Tea Popsicle

Calories
106.7 Per Serving
Protein
4g Per Serving
Fiber
2.8g Per Serving
Nutrition Facts
×
Calories
106.7
Total Fat
5 g
Saturated Fat
0.8 g
Trans Fat
0.0 g
Polyunsaturated Fat
0.6 g
Monounsaturated Fat
3.3 g
Cholesterol
0.8 mg
Sodium
27.2 mg
Total Carbohydrate
13.2 g
Dietary Fiber
2.8 g
Sugars
8.3 g
Protein
4 g
Dietary Exchanges
1 other carbohydrate, 1/2 lean meat, 1/2 fat
Ingredients
1 avocado (halved, pitted)
1 banana (peeled, roughly chopped)
1 cup fat-free milk
1/2 cup fat-free, plain Greek yogurt
1 tablespoon green tea matcha powder
1 tablespoon honey
Directions
Halve the avocado and remove the pit. Spoon the avocado's flesh into a food processor or blender, also adding the chopped banana, milk, yogurt, matcha powder, and honey.
Purée until mixture is smooth.
Carefully pour mixture into 6 (4-ounce) popsicle molds. Insert popsicle sticks and freeze until firm, at least 8 hours.
Run the outside of the popsicle mold under warm water to easily remove popsicle from the mold.
Cooking Tip: Matcha is a finely powdered green tea loaded with many antioxidants, often found at health food stores, if not in the tea aisle of the grocery store. Consider adding 1 to 2 teaspoons into a morning smoothie or make an afternoon drink of fat-free milk, matcha powder, and ice in the blender.
Keep it Healthy: Trying to reduce sugar intake? Adding a banana or other ripe fruit, like in this popsicle recipe, is a smart way to add sweetness.
Tip: Add a little ice into this recipe to turn this into a smoothie for 2. Or, sprinkle a little granola into the popsicle molds before filling with the base to make this into a breakfast popsicle.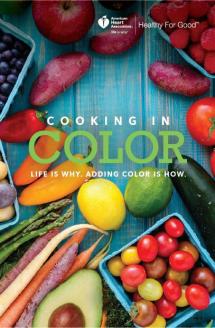 Cooking in Color
This digest-size recipe booklet includes 27 healthful recipes, all including fruits, vegetables, or both. Each recipe is accompanied by a vibrant photograph, and the recipes are organized by color. Also included is a fruit/veggie storage guide and a fruit/veggie equivalency guide.
Shop Heart
Copyright © 2018 American Heart Association, Healthy for Good™. Every purchase helps fund the work of the AHA/ASA.