Unlike other greens such as spinach or Swiss chard, kale is sturdier and tougher. To get raw kale tender, this recipe's technique of massaging a salad dressing into the leaves works wonders, from Simple Cooking with Heart.
Nutrition Facts
Massaged Kale Salad

Calories
184 Per Serving
Protein
8g Per Serving
Fiber
3g Per Serving
Cost Per Serving
$0.73
Nutrition Facts
×
Calories
184
Total Fat
12.4 g
Saturated Fat
0.9 g
Trans Fat
0.0 g
Polyunsaturated Fat
4.0 g
Monounsaturated Fat
5.7 g
Cholesterol
4 mg
Sodium
115 mg
Total Carbohydrate
15 g
Dietary Fiber
3 g
Sugars
1 g
Protein
8 g
Dietary Exchanges
1 fat, 3 vegetable
Ingredients
8 cups chopped, stemmed kale (about 1 large bunch)
3 Tbsp. lemon juice
2 Tbsp. canola oil
1/2 tsp. yellow or Dijon mustard
1/8 tsp. ground black pepper
3 Tbsp. unsalted, hulled sunflower seeds

OR

3 Tbsp. unsalted, hulled pumpkin seeds (also called pepitas)
2 Tbsp. grated, reduced-fat Parmesan cheese
Directions
Prepare the kale: Lay each leaf onto a cutting board. Use a knife to cut each side of the kale leaf's rib to remove and discard it. (Kale ribs are quite bitter and tough, making it best to remove.) Repeat with remaining leaves. Then, slice the kale into about ½-inch pieces. If kale is still wet from washing, dry it in a salad spinner.
In a large bowl, add lemon juice, oil, mustard, and pepper. Use a fork to mix dressing together. Add the chopped kale into the bowl. Use your fingers to gently massage the dressing into the kale until the kale has wilted from 8 cups to 6 cups, just a few minutes.
Top kale salad with pumpkin seeds and Parmesan cheese. Serve.
Cooking Tip: Just a dab of mustard, like in this salad dressing, helps keep the oil and vinegar together in homemade dressings.
Keep it Healthy: Kale is a powerhouse when it comes to the amount of vitamins and minerals in it. Consider keeping a bag of frozen chopped kale on hand in the freezer; throw a few handfuls into soups or stews to increase the nutrition.
Tip: 1 (5-ounce) packaged container of chopped kale can be substituted for the 8 cups of kale. It's a little more expensive than buying in a bunch; however, no washing or chopping is required.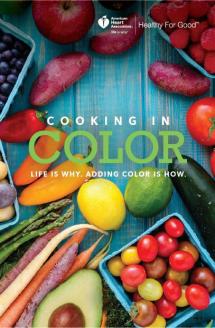 Cooking in Color
This digest-size recipe booklet includes 27 healthful recipes, all including fruits, vegetables, or both. Each recipe is accompanied by a vibrant photograph, and the recipes are organized by color. Also included is a fruit/veggie storage guide and a fruit/veggie equivalency guide.
Shop Heart
Copyright © 2018 American Heart Association, Healthy for Good™. Every purchase helps fund the work of the AHA/ASA.