Kale is sturdier and tougher than other greens, such as spinach or Swiss chard, which is why massaging the dressing into the leaves is a simple, effective technique to soften them.
Nutrition Facts
Massaged Kale Salad

Calories
184 Per Serving
Protein
8g Per Serving
Fiber
3g Per Serving
Cost Per Serving
$0.73
Nutrition Facts
×
Calories
184
Total Fat
12.5 g
Saturated Fat
1.0 g
Trans Fat
0.0 g
Polyunsaturated Fat
4.0 g
Monounsaturated Fat
5.5 g
Cholesterol
4 mg
Sodium
115 mg
Total Carbohydrate
15 g
Dietary Fiber
3 g
Sugars
1 g
Protein
8 g
Dietary Exchanges
1 fat, 3 vegetable
Ingredients
3 tablespoons fresh lemon juice
2 tablespoons canola or corn oil
1/2 teaspoon yellow or Dijon mustard (lowest sodium available)
1/8 teaspoon pepper (freshly ground preferred)
8 cups chopped kale (1/2-inch pieces), any large stems and ribs discarded (about 1 large bunch)
3 tablespoons unsalted shelled sunflower seeds

OR

3 tablespoons unsalted shelled pumpkin seeds (pepitas)
2 tablespoons shredded or grated Parmesan cheese
Directions
In a large bowl, whisk together the lemon juice, oil, mustard, and pepper. Add the kale. Using your fingers, gently massage the dressing into the kale until the kale has wilted from 8 cups to 6 cups (this will take a few minutes).
Just before serving, sprinkle the salad with the sunflower seeds and Parmesan.
Cooking Tip: Adding a dab of mustard to homemade vinaigrettes helps keep the oil and vinegar together.
Keep it Healthy: Kale is a powerhouse with its profusion of vitamins and minerals. Consider keeping a bag in the freezer so you can toss a handful or two into soups or stews for added nutrition.
Tip: Massaging the dressing into the kale leaves tenderizes them and mellows any bitter flavor.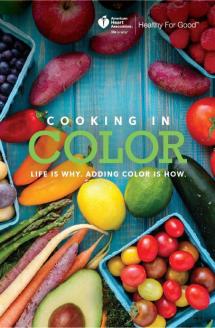 Cooking in Color
This digest-size recipe booklet includes 27 healthful recipes, all including fruits, vegetables, or both. Each recipe is accompanied by a vibrant photograph, and the recipes are organized by color. Also included is a fruit/veggie storage guide and a fruit/veggie equivalency guide.
Shop Heart
Copyright © 2018 American Heart Association, Healthy for Good™. Every purchase helps fund the work of the AHA/ASA.