A garnish of avocado bits, thinly sliced red bell pepper, and crisp tortilla strips adds texture and color to this popular soup.
Nutrition Facts
Chicken Tortilla Soup - Delicious Decisions

Calories
292 Per Serving
Protein
30g Per Serving
Fiber
5g Per Serving
Nutrition Facts
×
Calories
292
Total Fat
5.5 g
Saturated Fat
1.0 g
Trans Fat
0.0 g
Polyunsaturated Fat
1.0 g
Monounsaturated Fat
2.0 g
Cholesterol
73 mg
Sodium
350 mg
Total Carbohydrate
33 g
Dietary Fiber
5 g
Sugars
8 g
Protein
30 g
Dietary Exchanges
1 1/2 starch, 2 vegetable, 3 lean meat
Ingredients
1 pound boneless, skinless chicken breasts (all visible fat discarded, cut into 1/2-inch cubes)
2 cups frozen whole kernel corn (thawed)
2 cups fat-free, no-salt-added chicken broth
14.5 ounces canned, no-salt-added, diced tomatoes (undrained)
1/4 cup finely chopped onion
1 teaspoon sugar
1 teaspoon ancho powder
2 medium garlic cloves (minced)
1/4 teaspoon salt
2 6- inch corn tortillas (cut into 1/4-inch-wide strips, plus)
1 6- inch corn tortilla (torn into pieces)
2 to 4 tablespoon snipped, fresh cilantro
1/4 cup finely chopped avocado
1/4 medium red bell pepper (cut into matchstick-size strips)
Directions
In a 3-4 1/2-quart round or oval slow cooker, stir together the chicken, corn, broth, tomatoes with liquid, onion, sugar, ancho powder, garlic, and salt. Cook, covered, on low for 6 to 8 hours or on high for 3 to 4 hours.
Meanwhile, preheat the oven to 350 degrees F.
Arrange the tortilla strips in a single layer on a baking sheet. Bake for 8 to 10 minutes, or until crisp. Transfer the baking sheet to a cooling rack. Let the strips stand for about 15 minutes, or until cool. Transfer to an airtight container and set aside.
When the soup is ready, transfer 1 cup to a food processor or blender. Stir in the tortilla pieces. Let the mixture stand for 1 minute so the tortilla pieces soften. Process until smooth. Stir the mixture into the soup. Stir in the cilantro.
Ladle the soup into bowls. Sprinkle with the avocado, bell pepper, and reserved baked tortilla strips.
Cooking Tip: Adding the processed soup and tortilla mixture to the rest of the soup gives the finished product more body and distributes the tortilla flavor.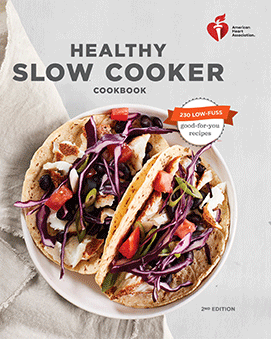 AHA Healthy Slow Cooker Cookbook, 2nd Edition
The versatile slow cooker is American's favorite kitchen appliance -- AND -- it can help support a healthy diet! The American Heart Association Healthy Slow Cooker Cookbook, 2nd Edition is back with brand new recipes that utilize your slow cooker and nourish you. From appetizers to desserts, the 230 recipes in this cookbook will surprise you with their variety and depth of flavor. Photography ©2018 by Lauren Volo.
Sample Recipes:
Acorn Squash Wedges with Walnuts
Purchase:
This recipe is reprinted with permission from Healthy Slow Cooker Cookbook, 2nd Edition. Copyright © 2018 by the American Heart Association. Published by Harmony Books, an imprint of Penguin Random House LLC. Available from booksellers everywhere.