The low-sodium version of either spicy mixed-vegetable juice or Bloody Mary mix is the base for the fast dressing that goes into this garden-fresh entrée salad.
Nutrition Facts
Gazpacho Pasta Salad - Delicious Decisions

Calories
247 Per Serving
Protein
11g Per Serving
Fiber
8g Per Serving
Nutrition Facts
×
Calories
247
Total Fat
7.0 g
Saturated Fat
1.0 g
Trans Fat
0.0 g
Polyunsaturated Fat
1.5 g
Monounsaturated Fat
4.0 g
Cholesterol
0 mg
Sodium
233 mg
Total Carbohydrate
40 g
Dietary Fiber
8 g
Sugars
5 g
Protein
11 g
Dietary Exchanges
1 fat, 2 vegetable, 2 starch
Ingredients
8 oz. dried, whole-grain fusilli or rotini
2 oz. spinach (about 2 cups), chopped
1 small cucumber (quartered lengthwise, sliced crosswise)
4 oz. cherry or grape tomatoes (halved)
1 cup cooked, shelled edamame (green soybeans)
1 small green or red bell pepper (chopped)
1/3 cup finely chopped red onion
1/4 cup snipped, fresh parsley
3/4 cup low-sodium spicy mixed-vegetable juice

OR

3/4 cup low-sodium Bloody Mary mix
3 Tbsp. fresh lime juice
1 medium garlic clove (minced)
1 medium avocado (chopped)
red hot pepper sauce (optional)
Directions
Prepare the pasta using the package directions, omitting the salt. Drain in a colander. Run under cold water to stop the cooking process and cool quickly. Drain well. Transfer to a large bowl.
Add the spinach, cucumber, tomatoes, edamame, bell pepper, onion, and parsley, tossing to combine.
In a small bowl, stir together the vegetable juice, lime juice, and garlic. Pour into the pasta mixture, tossing to coat. Gently stir in the avocado. Cover and refrigerate for 1 to 4 hours before serving. Serve with the hot-pepper sauce to sprinkle on top.
Keep it Healthy: For 8 ounces of spicy mixed-vegetable juice, the regular variety can contain 600 mg or more of sodium. We call for the low-sodium product, which for the equivalent amount has less than one-third the sodium. Be sure to look for the lowest-sodium Bloody Mary mix you can find if you opt for that ingredient. Most regular mixes contain over 1,000 mg of sodium in 8 ounces.
Tip: Serving size 1 1/2 cups.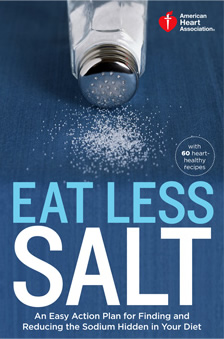 American Heart Association Eat Less Salt Cookbook
With this healthy lifestyle book, you'll learn how to monitor your current sodium intake, reduce the high-sodium products in your kitchen, read and understand food labels, know which popular foods are salt traps, keep sodium in check while eating out, and plan lower-sodium weekly menus without sacrificing taste. The book also includes 60 lower-sodium high flavor recipes and a toolkit that includes a daily sodium tracker, lists of smart pantry staples and substitutions, and more!
Sample Recipes:
Purchase:
This recipe is reprinted with permission from American Heart Association Eat Less Salt, Copyright © 2013 by the American Heart Association. Published by Clarkson Potter/Publishers, a division of Random House, Inc. Available from booksellers everywhere.