Artichoke hearts take center-stage in this salad, enhanced by crunchy sweet bell peppers and briny olives. Serve as is or on top of a bed of greens like arugula or chopped watercress.
Nutrition Facts
Chunky Artichoke-y Salad

Calories
164 Per Serving
Protein
3.9g Per Serving
Fiber
10.2g Per Serving
Nutrition Facts
×
Calories
164
Total Fat
9.9 g
Saturated Fat
0.7 g
Trans Fat
0.0 g
Polyunsaturated Fat
2.7 g
Monounsaturated Fat
6.1 g
Cholesterol
0.0 mg
Sodium
109 mg
Total Carbohydrate
15.7 g
Dietary Fiber
10.2 g
Sugars
2.6 g
Protein
3.9 g
Dietary Exchanges
3 vegetable, 2 fat
Ingredients
3 package frozen artichoke hearts (thawed)
1/4 cup canola oil
3 tablespoons lemon juice (from about 1 lemon)
1 1/2 teaspoons no-sodium Italian seasoning
1 teaspoon Dijon mustard
1/8 teaspoon ground black pepper
1 1/2 cups finely sliced basil leaves
2 tablespoon chopped black olives
1/4 cup sliced red onion
1 seeded, chopped red bell pepper
1 medium tomato (chopped)
Directions
Prepare the artichoke hearts: Add artichoke hearts to a heavy-duty medium pot with 3 cups water. Bring to a boil over high heat. Cover, reduce heat to medium-high, and let artichokes simmer until fully cooked and warm, about 5 minutes. Drain artichokes in a colander and run cold water over them to cool. Drain very thoroughly.
Meanwhile, in a large serving bowl, add oil, lemon juice, Italian seasoning, mustard, salt, and pepper. Whisk together with a fork.
Into the bowl, add artichoke hearts into the dressing. Stir to combine.
Add remaining ingredients into the bowl: sliced basil leaves, chopped olives, onion, chopped bell pepper, and chopped tomato. Stir together to combine. Serve immediately or chill in the refrigerator for a few hours and serve.
Cooking Tip: No time to thaw the artichoke hearts? Just cook them a little longer—up to 5 more minutes of simmering time.
Keep it Healthy: Using frozen artichoke hearts versus the marinated canned ones cuts down on a tremendous amount of sodium.
Tip: Finely chopping the artichokes, along with the other ingredients, turns this into a divine yet healthy dip to serve with pita chips.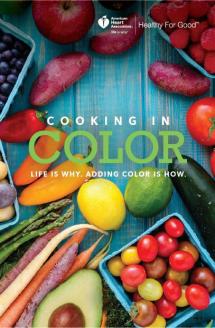 Cooking in Color
This digest-size recipe booklet includes 27 healthful recipes, all including fruits, vegetables, or both. Each recipe is accompanied by a vibrant photograph, and the recipes are organized by color. Also included is a fruit/veggie storage guide and a fruit/veggie equivalency guide.
Shop Heart
Copyright © 2018 American Heart Association, Healthy for Good™. Every purchase helps fund the work of the AHA/ASA.