Artichoke hearts take center stage in this side salad, enhanced by crunchy sweet bell peppers and briny olives. Serve as is or on top of a bed of greens such as arugula or chopped watercress.
Nutrition Facts
Chunky Artichoke-y Salad

Calories
164 Per Serving
Protein
4g Per Serving
Fiber
10g Per Serving
Nutrition Facts
×
Calories
164
Total Fat
10.0 g
Saturated Fat
0.5 g
Trans Fat
0.0 g
Polyunsaturated Fat
2.5 g
Monounsaturated Fat
6.0 g
Cholesterol
0 mg
Sodium
109 mg
Total Carbohydrate
16 g
Dietary Fiber
10 g
Sugars
3 g
Protein
4 g
Dietary Exchanges
3 vegetable, 2 fat
Ingredients
3 9-ounce packages frozen artichoke hearts, thawed
1/4 cup canola or corn oil
3 tablespoons fresh lemon juice
1 1/2 teaspoons dried Italian seasoning, crumbled
1 teaspoon Dijon mustard (lowest sodium available)
1/8 teaspoon pepper (freshly ground preferred)
1 1/2 cups finely sliced basil leaves
1 medium red bell pepper, seeds and ribs discarded, chopped
1 medium tomato, chopped
1/4 cup sliced red onion
2 tablespoons chopped black olives, drained
Directions
In a medium stockpot, bring 3 cups water to a boil over high heat. Put the artichokes in the water. Reduce the heat to medium high and simmer, covered, for 5 minutes, or until the artichokes are cooked through. Transfer to a colander. Run under cold water to cool. Drain thoroughly.
In a large serving bowl, using a fork, whisk together the oil, lemon juice, Italian seasoning, mustard, and pepper.
Add the artichokes to the dressing, stirring to coat.
Stir in the remaining ingredients to combine. Serve immediately or cover and refrigerate for 2 hours to serve chilled.
Cooking Tip: No time to thaw the artichoke hearts? No worries. Just simmer them for about 5 more minutes.
Keep it Healthy: Use frozen artichoke hearts rather than the marinated jarred varieties to cut down on the sodium.
Tip: Turn this salad into a dip by finely chopping the artichokes, bell pepper, tomato, red onion, and olives. Serve with baby carrots, celery sticks, cucumber spears, or pita chips.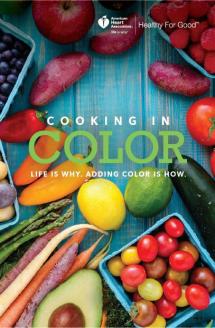 Cooking in Color
This digest-size recipe booklet includes 27 healthful recipes, all including fruits, vegetables, or both. Each recipe is accompanied by a vibrant photograph, and the recipes are organized by color. Also included is a fruit/veggie storage guide and a fruit/veggie equivalency guide.
Shop Heart
Copyright © 2018 American Heart Association, Healthy for Good™. Every purchase helps fund the work of the AHA/ASA.