This magnificent magenta salad is filled with the tartness of ruby red grapefruit and the earthiness of beets. It isn't just gorgeous to look at, but also tasty to eat. Pair with grilled or broiled fish, if desired.

Nutrition Facts
Roasted Beet and Citrus Salad

Calories
170 Per Serving
Protein
3.0g Per Serving
Fiber
3.4g Per Serving
Nutrition Facts
×
Calories
170
Total Fat
7.4 g
Saturated Fat
0.6 g
Trans Fat
0.0 g
Polyunsaturated Fat
2.1 g
Monounsaturated Fat
4.5 g
Cholesterol
0.0 mg
Sodium
149 mg
Total Carbohydrate
25.9 g
Dietary Fiber
3.4 g
Sugars
22.1 g
Protein
3.0 g
Dietary Exchanges
1 1/2 fruit, 1 vegetable, 1 1/2 fat
Ingredients
3 medium beets, peeled and diced into 1-inch chunks (4 cups)
2 tablespoon canola oil (divided)
2 cups packed spinach leaves
2 cups canned ruby red grapefruit segments in water or own juice, drained
1 can mandarin orange segments (in water, drained)
1 tablespoon chopped red onion
2 tablespoon chopped parsley
2 tablespoon red wine vinegar
1/8 teaspoon salt
Directions
Preheat oven to 400 degrees F. Prepare a baking sheet by lining it with foil and coating foil with cooking spray.
Use a peeler to remove the peel from each beet. Trim and discard the ends of each beet. Dice each beet into 1-inch chunks. Transfer beets to the prepared baking sheet and drizzle with 1 tablespoon oil. Roast until softened (tender when a knife goes through it), about 45 to 55 minutes.
When ready to serve salad, place spinach on the bottom of a serving bowl or platter. Top with drained grapefruit segments and orange segments, along with chopped red onion and chopped parsley. In a small bowl, whisk together 1 tablespoon oil, vinegar, and salt. Pour over the salad and gently toss with tongs.
Spoon cooked beets onto the top of the salad. Serve.
Cooking Tip: Did you know beets can also be cooked in the slow cooker? Simply wrap each beet in foil and place as many as will fit in 1 layer into the slow cooker bowl (about 4 to 5 medium beets in a large slow cooker). Cover with lid and cook on high heat until tender, about 4 to 5 hours. From there, peel and trim each beet; then, simply turn into 4 cups chopped beets to use for the salad.
Keep it Healthy: If not in the canned aisle, grapefruit segments can sometimes be found in plastic cups in the produce section. Drained of the juice, they can be a great portable fruit option for a work lunch or kid snack.
Tip: If possible, use a pair of disposable kitchen gloves when peeling and chopped raw beets; otherwise, pink-hued hands will be in your future.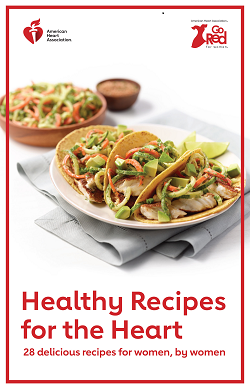 Healthy Recipes for the Heart
This digest-size recipe booklet contains 28 recipes, including Baked Flautas, Carne Asada with Chimichurri Sauce, Macaroni and Cheese with Spinach, Vegetable Migas, Jerk Tilapia Tacos with Zoodle Slaw, and Slow Cooker Thai Chicken Soup; blood pressure info and AHA recommended blood pressure levels; Blood Pressure Measurement Instruction infographic; an inspiring personal story shared by a GR Real Woman; full-color interior and photos; glossy cover; AHA dietary and lifestyle recommendations; Go Red Get Fit info; updated messaging and info about GRFW; and warning signs for heart attack and stroke.
Shop Heart