This refreshing, no-cook soup is the perfect light lunch on a hot summer's day.
Nutrition Facts
Gazpacho

Calories
84 Per Serving
Protein
3g Per Serving
Fiber
5g Per Serving
Cost Per Serving
$2.35
Nutrition Facts
×
Calories
84
Total Fat
0.5 g
Saturated Fat
0.0 g
Trans Fat
0.0 g
Polyunsaturated Fat
0.0 g
Monounsaturated Fat
0.0 g
Cholesterol
0 mg
Sodium
108 mg
Total Carbohydrate
18 g
Dietary Fiber
5 g
Sugars
11 g
Added Sugars
0 g
Protein
3 g
Ingredients
6 small ripe tomatoes, peeled and seeded
2 cups low-sodium tomato juice

OR

2 14.5-ounce cans no-salt-added tomatoes, undrained
1 medium cucumber, peeled and seeded
3 medium ribs of celery, chopped
1 medium bell pepper (red or green), finely chopped
1 small red onion, finely chopped
2 medium green onions, finely chopped
1/4 cup red wine vinegar
2 tablespoons chopped fresh parsley

OR

2 teaspoons dried parsley, crumbled
Juice from 1 medium lemon
1 medium garlic clove, chopped

OR

1/2 teaspoon bottled minced garlic
1/2 teaspoon crushed red pepper flakes (optional)
1/4 teaspoon pepper
1/4 teaspoon dried Italian seasoning, crumbled
Directions
In a food processor or blender, process all the ingredients until combined, but slightly chunky.
Transfer the soup to an airtight container. Refrigerate for up to 2 hours to overnight before serving.
Cooking Tip: If you don't have a food processor or blender, try to dice the vegetables as finely as possible. Then mix and mash them with a potato masher for about 2 minutes to allow the flavors to blend.
Cooking Tip: To peel tomatoes, place the fruit on a microwaveable plate and microwave on 100% power (high) for 30 seconds. Let stand for 2 minutes. The skin will be looser and easier to remove after microwaving.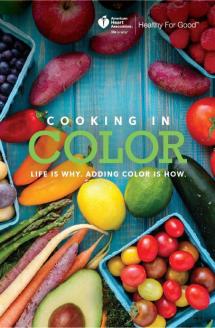 Cooking in Color
This digest-size recipe booklet includes 27 healthful recipes, all including fruits, vegetables, or both. Each recipe is accompanied by a vibrant photograph, and the recipes are organized by color. Also included is a fruit/veggie storage guide and a fruit/veggie equivalency guide.
Shop Heart
Copyright © 2018 American Heart Association, Healthy for Good™. Every purchase helps fund the work of the AHA/ASA.