Here is a super refreshing Spanish Simple Cooking with Heart recipe that is great during the hot summer months when you don't feel like heating up the kitchen. It's low in calories, chock full of vitamins - plus it's a great way to enjoy summer fresh veggies!
Nutrition Facts
Gazpacho

Calories
84 Per Serving
Protein
3g Per Serving
Fiber
5g Per Serving
Cost Per Serving
$2.35
Nutrition Facts
×
Calories
84
Total Fat
0.5 g
Saturated Fat
0.0 g
Trans Fat
0.0 g
Polyunsaturated Fat
0.0 g
Monounsaturated Fat
0.0 g
Cholesterol
0 mg
Sodium
108 mg
Total Carbohydrate
18 g
Dietary Fiber
5 g
Sugars
10.5 g
Added Sugars
0 g
Protein
3 g
Ingredients
6 small ripe tomatoes (peeled, seeded)
2 cups low-sodium tomato juice

OR

2 can no-salt-added tomatoes (undrained)
1 medium cucumber (peeled, seeded)
1 small red onion (finely chopped)
1 bell pepper (red or green), finely chopped
3 stalk celery (chopped)
2 Tbsp. fresh parsley (chopped)

OR

2 tsp. dried parsley
1 clove chopped garlic

OR

1 tsp. jarred, minced garlic
2 green onions (finely chopped)
1/4 cup red wine vinegar
juice of 1 lemon
1/4 tsp. pepper
1/4 tsp. no-salt-added, or, lower-sodium Italian seasoning
1/2 tsp. red pepper flakes (optional)
Directions
Add all ingredients to a blender or food processor and blend until well mixed but slightly chunky.
Chill up to 2 hours or overnight before serving. (NOTE: if you don't have a blender or food processor, try to dice the vegetables as finely as possible and use a masher to mix and mash, for approximately 2 minutes to combine flavors).
Serve as a chilled soup or as a dip for low sodium, whole wheat crackers or tortilla chips made with liquid oil and no hydrogenated fat or tropical oils, such as palm or coconut oil.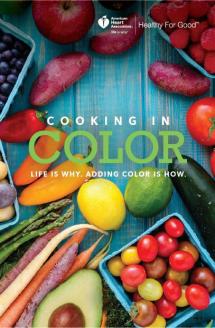 Cooking in Color
This digest-size recipe booklet includes 27 healthful recipes, all including fruits, vegetables, or both. Each recipe is accompanied by a vibrant photograph, and the recipes are organized by color. Also included is a fruit/veggie storage guide and a fruit/veggie equivalency guide.
Shop Heart
Copyright © 2018 American Heart Association, Healthy for Good™. Every purchase helps fund the work of the AHA/ASA.