Filled with chewy barley and a variety of vegetables, this speedy entrée soup is perfect for a light vegetarian lunch or dinner on a chilly day.
Nutrition Facts
Old-Fashioned Vegetable-Barley Soup

Calories
129 Per Serving
Protein
6g Per Serving
Fiber
5g Per Serving
Nutrition Facts
×
Calories
129
Total Fat
2.0 g
Saturated Fat
0.5 g
Trans Fat
g
Polyunsaturated Fat
0.5 g
Monounsaturated Fat
1.0 g
Cholesterol
1 mg
Sodium
78 mg
Total Carbohydrate
24 g
Dietary Fiber
5 g
Sugars
5 g
Protein
6 g
Dietary Exchanges
1 starch, 2 vegetable
Ingredients
Cooking spray
1 tsp. olive oil
1/2 medium onion (chopped)
1 medium rib of celery
1 medium garlic clove (minced)
14.5 oz. canned, no-salt-added, diced tomatoes (undrained)
1 1/2 cups frozen mixed vegetables
1 1/2 cups low-sodium vegetable broth
1 cup chopped kale
1/2 cup water
1/4 cup uncooked, quick-cooking barley
1/2 tsp. dried basil (crumbled)
1/2 tsp. dried oregano (crumbled)
1/8 tsp. pepper
1 Tbsp. shredded, or, grated Parmesan cheese
1 tsp. shredded, or, grated Parmesan cheese
Directions
Lightly spray a large Dutch oven with cooking spray. Add the oil, swirling to coat the bottom. Cook the onion and celery over medium-high heat until golden, about 3 minutes, stirring occasionally. Add the garlic and cook for 10 seconds. Stir in the remaining ingredients except the Parmesan. Bring to a boil over medium-high heat. Reduce the heat and simmer, covered, for 10 to 12 minutes, or until the barley is cooked.
Ladle into soup bowls. Sprinkle with the Parmesan.
Tip: Serving size 1 1/4 cups

Cook's Tip: Look for bags of washed and chopped kale in the produce section of your supermarket.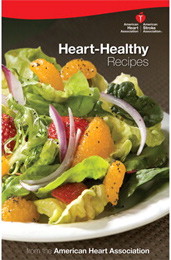 Heart-Healthy Recipes Cookbook
This 48-page magazine cookbook includes 32 healthy recipes and four-color images. Recipes include snacks, soups, salads, entrées, vegetables and sides, breads and breakfast dishes, and desserts. The booklet provides a nutritional analysis for each recipe, plus tips for making healthy food choices.
Sample Recipes:
Old-Fashioned Vegetable-Barley Soup
Shop Heart - This cookbook is out of stock.