Check out this great Simple Cooking with Heart, heart-healthy version of an American holiday favorite!
Nutrition Facts
Green Bean Casserole

Calories
77 Per Serving
Protein
3g Per Serving
Fiber
2g Per Serving
Cost Per Serving
$0.62
Nutrition Facts
×
Calories
77
Total Fat
2.0 g
Saturated Fat
0.5 g
Trans Fat
0.0 g
Polyunsaturated Fat
0.5 g
Monounsaturated Fat
0.5 g
Cholesterol
4 mg
Sodium
138 mg
Total Carbohydrate
12 g
Dietary Fiber
2 g
Sugars
3.2 g
Added Sugars
0 g
Protein
3 g
Ingredients
1 pound frozen green beans (French cut is best), thawed
1 10-ounce can reduced-fat, low-sodium cream of mushroom soup
1/2 cup low-fat sour cream
1/2 teaspoon pepper
1 small onion (cut into thin strips)
Cooking spray
1/4 cup whole-wheat flour
Directions
Preheat the oven to 350˚F.
In a 13 x 9 x 2-nch baking dish, stir together the green beans, soup, sour cream, and pepper until well blended. Bake for 20 minutes.
Meanwhile, spread out the onion strips on a baking sheet. Lightly spray with cooking spray.
Sprinkle the flour over the onion strips, tossing to coat.
Lightly spray a medium-large skillet with cooking spray. Cook the onions on medium high for 3 to 4 minutes, or until crispy, stirring occasionally.
Remove the baking dish from the oven. Stir in half of the onions.
Top with the remaining onions. Bake for 5 minutes.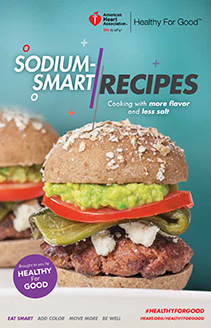 Sodium-Smart Recipes
This digest-sized booklet contains 28 recipes and photographs. It also contains information on how sodium affects overall health, a reference guide for sodium-free flavorings and provides American Heart Association's dietary recommendations.
Shop Heart