Whether for lunch or dinner, this Simple Cooking with Heart tuna melt with a side of sweet potato chips recipe gives off a diner-vibe with a healthy twist.
Nutrition Facts
Open-Face Tuna Melt with Oven-Baked Sweet Potato Chips

Calories
314 Per Serving
Protein
24g Per Serving
Fiber
6g Per Serving
Cost Per Serving
$4.05
Nutrition Facts
×
Calories
314
Total Fat
8.3 g
Saturated Fat
2.4 g
Trans Fat
0.2 g
Polyunsaturated Fat
1.4 g
Monounsaturated Fat
3.3 g
Cholesterol
33 mg
Sodium
512 mg
Total Carbohydrate
37 g
Dietary Fiber
6 g
Sugars
11 g
Protein
24 g
Dietary Exchanges
2 starch, 2 1/2 lean meat, 1 vegetable
Ingredients
For the Sweet Potato Chips:
2 medium sweet potatoes, sliced 1/8-inch thick
canola oil
1/4 tsp. ground Black pepper
For the Tuna Melt:
2 (5-ounce) cans Chunk Light or Albacore White Tuna, in water
2 Tbsp. low-fat mayonnaise
2 Tbsp. low-fat red onion or scallions
1/2 tsp. dried dill
1 tsp. lemon juice
4 slices whole-wheat bread
2 medium tomatoes (sliced)
1/2 cup shredded, reduced-fat cheddar cheese
Directions
For the Sweet Potato Chips:
Preheat oven to 400 degrees F.
Slice the sweet potatoes into round slices as thin as possible, about 1/8-inch thick. A mandoline does this easily but this can also be accomplished using a knife, even if the slices may not be perfect. (Note that using a knife versus a mandoline will give slices with uneven thickness; keep more of an eye on them while baking as they can burn quicker.)
Line two large baking sheets with foil and coat with cooking spray. Divide sweet potatoes between the baking sheets. Drizzle with the oil and pepper and use your hands to toss to coat. Spread the sweet potato pieces out, aiming that they don't overlap with each other.
Bake in the oven, rotating the baking sheets halfway through the cooking time. Cook until chips are slightly crispy, about 15 to 25 minutes. Remove and let cool while making the tuna melt.
For the Tuna Melt:
Preheat the oven's broiler.
In a small bowl, add drained tuna, mayonnaise, red onion/ scallions, dill, and lemon juice. Using a fork, mix to combine.
Place each bread slice onto a foil-lined baking sheet. Divide tuna, layering on top of each slice. Top tuna with tomato slices. Place baking sheet under the broiler for 1 to 2 minutes until tuna is warm. Divide cheese between each open-face sandwich; place under the broiler until cheese melts, about 1 minute.
Serve tuna melt with sweet potato chips.
Cooking Tip: 1 (6.4-ounce) pouch of tuna can be used instead of 2 (5-ounce) cans of tuna since the pouches contain little liquid and practically all tuna.
Keep it Healthy: Even a healthy ingredient like whole-wheat bread can contain unwanted sodium. Always look at the nutritional breakdown on the back and choose bread that is naturally lower in sodium, such as Pepperidge Farm Stone Ground 100% Whole Wheat Bread, which has 65 milligrams of sodium per slice.
Tip: Broiler temperatures vary; always keep a close eye on anything under the broiler, no matter what time is indicated in a recipe.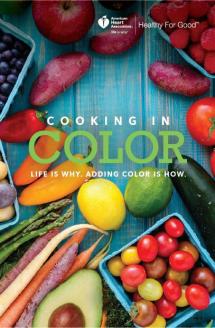 Cooking in Color
This digest-size recipe booklet includes 27 healthful recipes, all including fruits, vegetables, or both. Each recipe is accompanied by a vibrant photograph, and the recipes are organized by color. Also included is a fruit/veggie storage guide and a fruit/veggie equivalency guide.
Shop Heart
Copyright © 2018 American Heart Association, Healthy for Good™. Every purchase helps fund the work of the AHA/ASA.