This tasty recipe is a favorite from down South featuring two Southern cooking basics that we've given a heart-healthy twist to!
Nutrition Facts
Baked Cajun Catfish and Easy Collard Greens

Calories
218 Per Serving
Protein
22g Per Serving
Fiber
4g Per Serving
Cost Per Serving
$3.81
Nutrition Facts
×
Calories
218
Total Fat
11.0 g
Saturated Fat
1.5 g
Trans Fat
0.0 g
Polyunsaturated Fat
3.0 g
Monounsaturated Fat
5.5 g
Cholesterol
69 mg
Sodium
235 mg
Total Carbohydrate
7 g
Dietary Fiber
4 g
Sugars
1.6 g
Added Sugars
1 g
Protein
22 g
Ingredients
For the Baked Cajun Catfish:
1 tablespoon vegetable oil
1/2 teaspoon garlic powder
1/2 teaspoon onion powder
1/4 teaspoon pepper
1/2 tsp. cayenne pepper (more or less, depending on desired spiciness)
1 1/2 teaspoon paprika
1 teaspoon thyme
4 fillet catfish (you can substitute any white fish, such as tilapia or trout)
non-stick Cooking spray
For the Collard Greens:
1 tablespoon vegetable oil
1/2 small onion (thinly sliced)
1 teaspoon jarred, minced garlic
1 teaspoon sugar
1/2 tsp. red pepper flakes (add more if you like spicier food)
1 Bunch collard greens
2 tablespoon water
1 cooked, diced slice, uncured, nitrate-free Canadian bacon (cooked in microwave)
1 tablespoon cider vinegar
Directions
For the Baked Cajun Catfish:
In a shallow bowl, combine oil, garlic powder, onion powder, pepper, cayenne, paprika and thyme.
Prepare a 9x13 baking dish with non-stick spray.
Coat fish fillets in seasoning mixture and place in baking dish, pour any remaining seasoning mixture over the fish.
Bake at 425 degrees for 15 minutes, until fish flakes with a fork.
For the Collard Greens:
Prepare the greens: Wash the greens and blot lightly with paper towel.
Remove stems from larger leaves by stripping the leaf off from either side of the step (it is okay to leave the stems on the tender inner leaves).
Stack 8 leaves together, roll up, and slice in to 1-inch sections.
In a large skillet, heat oil on medium heat. Add onion and cook until translucent (3 minutes, stirring occasionally).
Add garlic and cook 30 seconds more.
Add, sugar, red pepper, greens, vinegar, water and Canadian bacon.
Cover and cook until tender (20 minutes).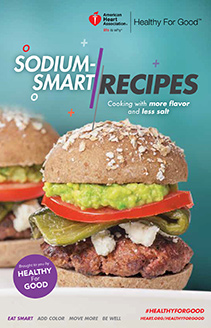 Sodium-Smart Recipes
This digest-sized booklet contains 28 recipes and photographs. It also contains information on how sodium affects overall health, a reference guide for sodium-free flavorings and provides American Heart Association's dietary recommendations.
Shop Heart