Baked chicken breast is anything but bland when it's covered with spicy picante sauce and served with turmeric-tinged brown rice.
Nutrition Facts
Picante Chicken

Calories
245 Per Serving
Protein
29g Per Serving
Fiber
1g Per Serving
Nutrition Facts
×
Calories
245
Total Fat
4.5 g
Saturated Fat
0.5 g
Trans Fat
g
Polyunsaturated Fat
1.0 g
Monounsaturated Fat
2.5 g
Cholesterol
67 mg
Sodium
296 mg
Total Carbohydrate
20 g
Dietary Fiber
1 g
Sugars
1 g
Protein
29 g
Dietary Exchanges
1 1/2 starch, 3 very lean meat
Ingredients
Cooking spray
4 chicken breast halves, (about 4 ounces each)
1/4 to 1/2 tsp. ground cumin
2 tsp. olive oil
1/4 cup mild picante sauce (lowest sodium available)
1 cup uncooked, instant brown rice
1/4 tsp. ground turmeric (optional)
1/4 tsp. salt
2 Tbsp. fat-free, or, light sour cream
2 Tbsp. snipped, fresh cilantro
Directions
Preheat the oven to 350°F.
Lightly spray an 11 x 7 x 2-inch baking dish with cooking spray. Put the chicken in the baking dish. Sprinkle with the cumin, drizzle with the oil and spoon the picante sauce on top. Using the back of a spoon, spread the sauce evenly over the chicken.
Bake for 25 minutes, or until the chicken is no longer pink in the center.
Meanwhile, in a small saucepan, prepare the rice using the package directions, omitting the salt and margarine and adding the turmeric. Stir in the salt.
To serve, spoon the rice onto plates. Place the chicken beside the rice. Spoon the sauce over all. Top the chicken with the sour cream and cilantro.
Tip: Serving size 3 ounces chicken, 1/2 cup rice, and 1 tablespoon sauce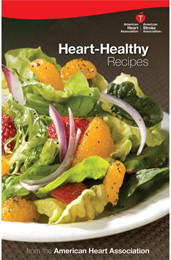 Heart-Healthy Recipes Cookbook
This 48-page magazine cookbook includes 32 healthy recipes and four-color images. Recipes include snacks, soups, salads, entrées, vegetables and sides, breads and breakfast dishes, and desserts. The booklet provides a nutritional analysis for each recipe, plus tips for making healthy food choices.
Sample Recipes:
Old-Fashioned Vegetable-Barley Soup
Purchase:
Shop Heart - This cookbook is out of stock.