Who won't want to try orange nachos? The seasoned sweet potatoes with the mellow cheese create a wonderful combination for a snack or healthier game-day appetizer!
Nutrition Facts
Sweet Potato Nachos

Calories
209 Per Serving
Protein
6g Per Serving
Fiber
6g Per Serving
Cost Per Serving
$1.56
Nutrition Facts
×
Calories
209
Total Fat
5.5 g
Saturated Fat
1.7 g
Trans Fat
0.0 g
Polyunsaturated Fat
0.6 g
Monounsaturated Fat
2.8 g
Cholesterol
5 mg
Sodium
194 mg
Total Carbohydrate
34 g
Dietary Fiber
6 g
Sugars
7 g
Protein
6 g
Dietary Exchanges
2 1/2 starch, 3 lean meat
Ingredients
3 medium sweet potatoes (about 2 pounds), makes about 6 cups of rounds
1 Tbsp. olive oil
1 tsp. chili powder
1 tsp. garlic powder
1 1/2 tsp. paprika
1/3 cup black beans (drained, rinsed)
1/3 cup reduced-fat, shredded cheddar cheese
1/3 cup chopped tomato (1 plum tomato)

OR

1/3 cup no-salt-added, canned, diced tomatoes (drained, rinsed)
1/3 cup chopped avocado
Directions
Preheat the oven to 425°F. Cover the baking pans with foil and coat with nonstick cooking spray.
Peel and slice the sweet potatoes thinly (about quarter-inch rounds). In a bowl, toss the rounds with olive oil, chili powder, garlic powder and paprika. Spread evenly on prepared pan (might need two pans). Bake for 10 minutes and use a spatula to flip the sweet potato rounds. Bake for another 5-10 minutes or until crisp.
Remove the pan from the oven and sprinkle beans and cheese over the sweet potatoes. Return to oven until cheese melts, about 2 minutes. Sprinkle with tomato and avocado. Serve.
Tip: For easy clean-up, line your baking pan with foil before spraying with nonstick cooking spray, allowing you to toss the foil after use.
Tip: A well-stocked spice cabinet is an easy way to add flavor without added sodium – however, be sure to look for spices and seasoning mixes without added salt.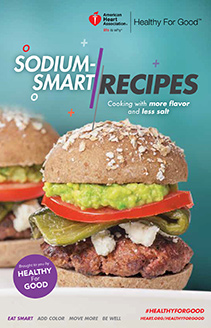 Sodium-Smart Recipes
This digest-sized booklet contains 28 recipes and photographs. It also contains information on how sodium affects overall health, a reference guide for sodium-free flavorings and provides American Heart Association's dietary recommendations.
Shop Heart