This Simple Cooking with Heart recipe is an easy, no-cook, one-dish, American dinner that you can whip together in about 15 minutes!
Nutrition Facts
Chicken and Green Bean Salad

Calories
251 Per Serving
Protein
23g Per Serving
Fiber
5g Per Serving
Cost Per Serving
$2.82
Nutrition Facts
×
Calories
251
Total Fat
13.5 g
Saturated Fat
2.0 g
Trans Fat
0.0 g
Polyunsaturated Fat
2.0 g
Monounsaturated Fat
8.0 g
Cholesterol
70 mg
Sodium
360 mg
Total Carbohydrate
11 g
Dietary Fiber
5 g
Sugars
5 g
Protein
23 g
Ingredients
For the Chicken and Green Bean Salad:
2 cup shredded chicken (from half of a rotisserie chicken)

OR

20 ounces canned, salt-free white meat chicken (drained)
31 oz canned, no-salt-added or low-sodium green beans (drained, rinsed)
3 stalk celery (chopped)
3 Tbsp chopped, unsalted, unoiled almonds (or any nut on sale)
For the Dressing:
1 Tbsp Dijon mustard or spicy brown mustard

OR

1 tsp ground mustard and mix with 2 teaspoons water
2 Tbsp extra virgin olive oil or canola oil
2 tablespoon lemon juice or vinegar
1/4 teaspoon dried thyme
1/4 teaspoon ground pepper
Directions
For the Chicken and Green Bean Salad:
Add ingredients into a large bowl and mix together.
Add dressing to salad, tossing to combine.
For the Dressing:
Add mustard, olive oil, lemon juice, thyme and pepper to a small bowl.
Use a fork or whisk to combine.
Cooking Tip: Kids can help crush the almonds! Just put in a sealed plastic bag and let them gently smash with a rolling pin or the back of a small pan.
Keep it Healthy: Seeds like hulled unsalted pumpkin seeds or unsalted sunflower seeds can be used instead of nuts in any recipe. They are just as nutritious!
Tip: Instead of celery, a 12-ounce package of shredded cabbage or shredded carrots can be used. Or, even a chopped cucumber! Just look at what is on sale and what you like to eat.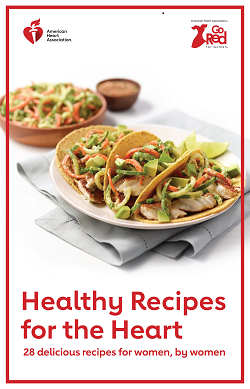 Healthy Recipes for the Heart
This digest-size recipe booklet contains 28 recipes, including Baked Flautas, Carne Asada with Chimichurri Sauce, Macaroni and Cheese with Spinach, Vegetable Migas, Jerk Tilapia Tacos with Zoodle Slaw, and Slow Cooker Thai Chicken Soup; blood pressure info and AHA recommended blood pressure levels; Blood Pressure Measurement Instruction infographic; an inspiring personal story shared by a GR Real Woman; full-color interior and photos; glossy cover; AHA dietary and lifestyle recommendations; Go Red Get Fit info; updated messaging and info about GRFW; and warning signs for heart attack and stroke.
Shop Heart