This sweet and crunchy snack boasts plenty of fiber and heart-healthy fat. Once it's cooled, package it in single-serving bags so it's ready to tuck into lunchboxes or grab on the way out the door.
Nutrition Facts
Almond Snack Mix

Sodium
72g Per Serving
Total Carbohydrate
29g Per Serving
Monounsaturated Fat
4.0g Per Serving
Nutrition Facts
×
Calories
174
Total Fat
6.5 g
Saturated Fat
0.5 g
Trans Fat
0.0 g
Polyunsaturated Fat
1.5 g
Monounsaturated Fat
4.0 g
Cholesterol
0 mg
Sodium
72 mg
Total Carbohydrate
29 g
Dietary Fiber
5 g
Sugars
14 g
Protein
4 g
Dietary Exchanges
1 starch, 1 fruit, 1 fat
Ingredients
1/3 cup whole, unsalted almonds
2/3 cup whole-grain cereal squares
1/2 cup low-fat granola (without raisins)
1/4 cup dried apricot halves, cut into pieces

OR

1/4 cup golden raisins
1/4 cup sweetened, dried cranberries
Directions
Preheat the oven to 350°F. Spread the almonds in a single layer on an ungreased baking sheet. Bake for 5 to 10 minutes, or until lightly toasted, stirring once or twice to ensure even baking. Transfer to a plate to cool completely.
Meanwhile, in a large bowl, stir together the remaining ingredients. Stir in the cooled almonds.
Cooking Tip: If all the snack mix isn't likely to be eaten on the day you make it, we recommend using the golden raisins. The moisture of the dried apricots may cause the cereal to lose its crispness over time. Be sure the almonds are completely cooled when you add them to the mix; otherwise, they will make it soggy.
Tip: Almond Snack Mix can be stored at room temperature in an airtight container for three to four weeks.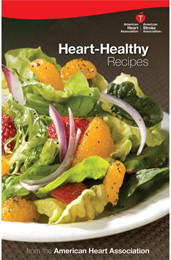 Heart-Healthy Recipes Cookbook
This 48-page magazine cookbook includes 32 healthy recipes and four-color images. Recipes include snacks, soups, salads, entrées, vegetables and sides, breads and breakfast dishes, and desserts. The booklet provides a nutritional analysis for each recipe, plus tips for making healthy food choices.
Sample Recipes:
Old-Fashioned Vegetable-Barley Soup
Purchase:
Shop Heart - This cookbook is out of stock.
This recipe is reprinted with permission from Heart-Healthy Recipes, Copyright © 2011 by the American Heart Association. Published by Krames StayWell, LLC. Look for Heart-Healthy Recipes at ShopHeart.org.