Baking food in a parchment packet is a French technique known as en papillote—it's easy and yields delectable results. For this recipe, a halibut fillet and a sprig of fresh tarragon are baked on a bed of spring vegetables in each packet. As the packets bake, the delicate juices from the fish and vegetables mingle to create a mouthwatering flavor.
Nutrition Facts
Herbed Halibut and Spring Vegetables en Papillote - Delicious Decisions

Calories
156 Per Serving
Protein
23g Per Serving
Fiber
2g Per Serving
Nutrition Facts
×
Calories
156
Total Fat
4.0 g
Saturated Fat
0.5 g
Trans Fat
0.0 g
Polyunsaturated Fat
0.5 g
Monounsaturated Fat
2.0 g
Cholesterol
56 mg
Sodium
241 mg
Total Carbohydrate
7 g
Dietary Fiber
2 g
Sugars
3 g
Protein
23 g
Dietary Exchanges
3 lean meat, 1 vegetable
Ingredients
8 oz. asparagus spears, trimmed, diagonally sliced, cut into 2-inch pieces
1 large carrot (cut into matchstick-size strips)
1 medium leek (white and light green parts only), halved lengthwise, each half cut lengthwise into 3/8-inch strips
4 halibut steaks (about 4 ounces each), about 1 inch thick, rinsed, patted dry
1/4 tsp. salt
1/4 tsp. pepper
4 sprigs fresh tarragon, about 4 inches long
2 Tbsp. sliced chives
2 tsp. olive oil
Directions
Preheat the oven to 425°F. Cut eight 15-inch-long sheets of cooking parchment or aluminum foil. Set aside.
Place the asparagus in the center of four of the parchment sheets. Place the carrot and leek on the asparagus. Place the fish on the vegetables. Sprinkle with the salt and pepper. Place a tarragon sprig on each piece of fish. Sprinkle with the chives. Drizzle with the oil. Place one of the remaining four sheets of parchment over the fish. Fold the edges toward the center. Holding the tops together, fold several times to seal securely. Transfer the packets to a large rimmed baking sheet. (The packets can be made up to 6 hours in advance. Cover and refrigerate until baking time.)
Bake for 10 minutes. Using the tines of a fork, carefully open a packet away from you (to prevent steam burns). If the fish flakes easily when tested with a fork, carefully open the remaining packets and serve. If the fish isn't cooked enough, reclose the open packet and bake all the packets for 1 to 2 minutes. Serve the fish and vegetables in the packets.
Tip: Serving size 3 ounces fish and 1/2 cup vegetables.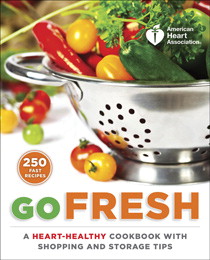 This recipe is reprinted with permission from American Heart Association Go Fresh. Copyright © 2014 by the American Heart Association. Published by Clarkson Potter/Publishers, a division of Random House, Inc. Available from booksellers everywhere.