This elegant main dish is sure to impress when the pork is sliced open to reveal its beautiful, bright filling. It may look complicated, but it's simple to prepare. Sweet sun-dried tomatoes, earthy spinach, and crunchy pine nuts provide a wonderful contrast to rosemary-scented pork.
Nutrition Facts
Pork Tenderloin Stuffed with Spinach - Delicious Decisions

Calories
166 Per Serving
Protein
24g Per Serving
Fiber
2g Per Serving
Nutrition Facts
×
Calories
166
Total Fat
5.0 g
Saturated Fat
1.5 g
Trans Fat
0.0 g
Polyunsaturated Fat
1.5 g
Monounsaturated Fat
2.0 g
Cholesterol
60 mg
Sodium
218 mg
Total Carbohydrate
6 g
Dietary Fiber
2 g
Sugars
2 g
Protein
24 g
Dietary Exchanges
1 vegetable, 3 lean meat
Ingredients
1/2 cup dry-packed sun-dried tomatoes
Cooking spray
1 pound pork tenderloin, all visible fat discarded, butterflied and flattened to 1-inch thickness
2 tablespoons pine nuts, dry-roasted
1 tablespoon chopped fresh rosemary and 1 tablespoon chopped fresh rosemary, divided use
1/4 teaspoon salt
1/8 teaspoon pepper and 1/8 teaspoon pepper, divided use
4 cups loosely packed baby spinach
Directions
Bring 1 cup water to a boil. Put the tomatoes in a small bowl. Pour in the boiling water. Let stand for 10 minutes, or until softened.
Preheat the oven to 375 degrees. Lightly spray a rimmed baking sheet with cooking spray.
Drain the tomatoes, discarding the soaking water. Squeeze them to remove any excess water. Coarsely chop the tomatoes.
Lay the opened pork on a cutting board. Sprinkle the tomatoes and pine nuts lengthwise over half of the pork. Sprinkle 1 tablespoon rosemary, the salt, and 1/8 teaspoon pepper over the tomato mixture. Arrange the spinach in a single layer on top. Fold the half with no filling over the other half. Using kitchen twine, tie the pork at 2-inch intervals to secure it. Transfer the pork to the baking sheet. Lightly spray the pork with cooking spray. Sprinkle with the remaining 1 tablespoon rosemary and 1/8 teaspoon pepper.
Bake for 40 minutes, or until the pork registers 145°F on an instant-read thermometer.
Transfer the pork to a clean cutting board. Discard the twine. Let stand for 3 minutes before slicing.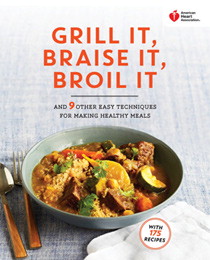 Grill It, Braise It, Broil It Cookbook
The 175 recipes, organized by 12 cooking techniques, vary to fit every lifestyle. Whether you want something you can set and forget (in the slow cooker), cook in just minutes (broil, steam, or grill), cook quickly without heating up the kitchen (microwave), or cook traditionally in ways that will fill your house with delectable aromas (baking, roasting, braising, stewing), this cookbook will be your go-to resource.
Sample Recipes:
Pork Tenderloin Stuffed with Spinach
Purchase
This recipe is reprinted from AMERICAN HEART ASSOCIATION GRILL IT, BRAISE IT, BROIL IT. Copyright ©2015 by American Heart Association. Photos by Lucy Schaeffer. Published by Clarkson Potter/Publishers, an imprint of Penguin Random House LLC. Available from booksellers everywhere.