A fresh tomato-saffron sauce doubles as a marinade to give the kebabs twice the flavor. Serve them with brown rice or whole-wheat couscous.
Nutrition Facts
Mediterranean Tuna Kebabs - Delicious Decisions

Calories
179 Per Serving
Protein
29g Per Serving
Fiber
2g Per Serving
Nutrition Facts
×
Calories
179
Total Fat
3.0 g
Saturated Fat
0.5 g
Trans Fat
0.0 g
Polyunsaturated Fat
0.5 g
Monounsaturated Fat
2.0 g
Cholesterol
44 mg
Sodium
60 mg
Total Carbohydrate
8 g
Dietary Fiber
2 g
Sugars
5 g
Protein
29 g
Dietary Exchanges
3 lean meat, 2 vegetable
Ingredients
1/4 cup water
Pinch of saffron (optional)
2/3 cup chopped Italian plum (Roma) tomatoes (about 2 small)
2 teaspoons olive oil (extra virgin preferred)
1 teaspoon red wine vinegar
1 small garlic clove
1 pound tuna steaks, cut into 12 1-inch cubes
1 medium onion, cut into 12 1/2-inch wedges
1 medium red or yellow bell pepper, cut into 12 strips
1 medium zucchini, cut crosswise into 12 slices
Cooking spray
Directions
Soak four 12-inch wooden skewers for at least 10 minutes in cold water to keep them from charring, or use metal skewers.
In a small glass bowl, whisk together the hot water and saffron. In a food processor or blender, process the saffron mixture, tomatoes, oil, vinegar, and garlic for 1 minute, or until smooth. Transfer 1/3 cup of the mixture to the bowl. Cover and refrigerate until 10 to 15 minutes before serving time.
For each kebab, thread each skewer with 3 tuna cubes, 3 onion wedges, 3 bell pepper strips, and 3 zucchini slices. Put the kebabs on a rimmed baking sheet. Brush all sides of the kebabs generously with the marinade. Cover and refrigerate for 30 minutes to 1 hour.
Lightly spray the grill rack with cooking spray. Preheat the grill on medium high.
Meanwhile, remove the reserved saffron mixture from the refrigerator. Let stand at room temperature for 10 to 15 minutes.
Lightly spray the kebabs with cooking spray. Grill the kebabs, covered, for about 4 minutes, or until the fish is the desired doneness and the vegetables are tender-crisp, turning frequently. Serve with the reserved saffron mixture.
Cooking Tip: When threading the kebabs, angle the zucchini slices so they lie slightly flat during grilling for more even cooking.
Cooking Tip: Instead of turning the kebabs, you can use a metal spatula to roll them over.
Tip: You can buy saffron in powder form or as threads; the threads are fresher and more flavorful. They can be expensive, but a little goes a long way. Crush them just before you use them.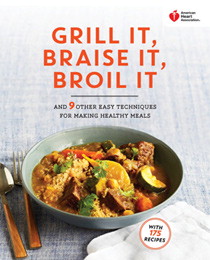 Grill It, Braise It, Broil It Cookbook
The 175 recipes, organized by 12 cooking techniques, vary to fit every lifestyle. Whether you want something you can set and forget (in the slow cooker), cook in just minutes (broil, steam, or grill), cook quickly without heating up the kitchen (microwave), or cook traditionally in ways that will fill your house with delectable aromas (baking, roasting, braising, stewing), this cookbook will be your go-to resource.
Sample Recipes:
Pork Tenderloin Stuffed with Spinach
Purchase
This recipe is reprinted from AMERICAN HEART ASSOCIATION GRILL IT, BRAISE IT, BROIL IT. Copyright ©2015 by American Heart Association. Photos by Lucy Schaeffer. Published by Clarkson Potter/Publishers, an imprint of Penguin Random House LLC. Available from booksellers everywhere.