Thai Chicken Broccoli Salad with Peanut Dressing
This Simple Cooking with Heart recipe is a fun Thai dinner for you -- a no-cook, super tasty salad that you can put together quickly and serve as the main dish for your meal.
Ingredients
4-6 Servings
Peanut Dressing
Thai Chicken and Broccoli Salad

$2.03-$3.04
Price per serving

268
Calories per serving

2.0 g
Sat. Fat per serving

347 mg
Sodium per serving
View Full Nutrition Info
collapse
Quick Tips

Keep it Healthy: If using fresh broccoli, also chop up the broccoli stems. It tastes good and is full of vitamins.

Cooking Tip: Some peanut butter brands are thicker than others; so more water may be needed to thin out the dressing.

Tip: Buying a pre-cut package of broccoli is a time-saver but also slightly more expensive.
Directions
Tip: Click on step to mark as complete.
Thai Chicken and Broccoli Salad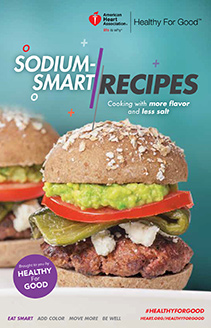 Like the Recipe? It and Many Others are Available in the Cookbook Below:
Sodium Smart Recipe Magazine
Copyright © 2018 American Heart Association, Healthy For GoodTM, heart.org/healthyforgood
Calories
268
Total Fat
8.0 g
Saturated Fat
2.0 g
Trans Fat
0.0 g
Polyunsaturated Fat
1.5 g
Monounsaturated Fat
3.5 g
Cholesterol
70 mg
Sodium
347 mg
Total Carbohydrate
23 g
Dietary Fiber
7 g
Sugars
13 g
Protein
27 g
Please sign in to add recipes to your Recipe Box.
Log In