Gazpacho
Here is a super refreshing Spanish Simple Cooking with Heart recipe that is great during the hot summer months when you don't feel like heating up the kitchen. It's low in calories, chock full of vitamins - plus it's a great way to enjoy summer fresh veggies!
Ingredients
4 Servings

2.35
Price per serving

84
Calories per serving

0.0 g
Sat. Fat per serving

108 mg
Sodium per serving
View Full Nutrition Info
Directions
Tip: Click on step to mark as complete.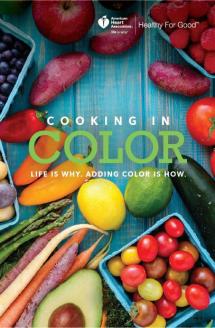 Like the Recipe? It and Many Others are Available in the Cookbook Below:
Purchase Cooking in Color
Copyright © 2018 American Heart Association, Healthy For GoodTM, heart.org/healthyforgood Every purchase helps fund the work of the AHA/ASA.
Calories
84
Total Fat
0.5 g
Saturated Fat
0.0 g
Trans Fat
0.0 g
Polyunsaturated Fat
0.0 g
Monounsaturated Fat
0.0 g
Cholesterol
0 mg
Sodium
108 mg
Potassium
1078 mg
Total Carbohydrate
18 g
Dietary Fiber
5 g
Sugars
10.5 g
Added Sugars
0 g
Protein
3 g
Calcium
55 mg
Please sign in to add recipes to your Recipe Box.
Log In