Almond Snack Mix
This sweet and crunchy snack boasts plenty of fiber and heart-healthy fat. Once it's cooled, package it in single-serving bags so it's ready to tuck into lunchboxes or grab on the way out the door.
Ingredients
4 Servings

174
Calories per serving

0.5 g
Sat. Fat per serving

72 mg
Sodium per serving
View Full Nutrition Info
collapse
Quick Tips

Cooking Tip: If all the snack mix isn't likely to be eaten on the day you make it, we recommend using the golden raisins. The moisture of the dried apricots may cause the cereal to lose its crispness over time. Be sure the almonds are completely cooled when you add them to the mix; otherwise, they will make it soggy.

Tip: Serving size 1/2 cup

Directions
Tip: Click on step to mark as complete.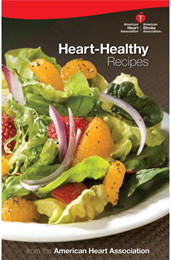 Like the Recipe? It and Many Others are Available in the Cookbook Below:
Heart-Healthy Recipes
Calories
174
Total Fat
6.5 g
Saturated Fat
0.5 g
Polyunsaturated Fat
1.5 g
Monounsaturated Fat
4.0 g
Cholesterol
0 mg
Sodium
72 mg
Total Carbohydrate
29 g
Dietary Fiber
5 g
Sugars
14 g
Protein
4 g
Dietary Exchanges
1 starch, 1 fruit, 1 fat
Please sign in to add recipes to your Recipe Box.
Log In