Sweet Potato Nachos
What child won't want to try orange nachos? The seasoned sweet potatoes with the mellow cheese create a wonderful combination for a snack or healthier game-day appetizer!
Ingredients
6 Servings

1.56
Price per serving

209
Calories per serving

1.7 g
Sat. Fat per serving

194 mg
Sodium per serving
View Full Nutrition Info
collapse
Quick Tips

Tip: For easy clean-up, line your baking pan with foil before spraying with nonstick cooking spray, allowing you to toss the foil after use.

Tip: A well-stocked spice cabinet is an easy way to add flavor without added sodium – however, be sure to look for spices and seasoning mixes without added salt.
Directions
Tip: Click on step to mark as complete.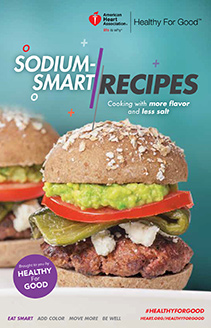 Like the Recipe? It and Many Others are Available in the Cookbook Below:
Sodium Smart Recipe Magazine
Copyright © 2018 American Heart Association, Healthy For GoodTM, heart.org/healthyforgood
Calories
209
Total Fat
5.5 g
Saturated Fat
1.7 g
Trans Fat
0.0 g
Polyunsaturated Fat
0.6 g
Monounsaturated Fat
2.8 g
Cholesterol
5 mg
Sodium
194 mg
Total Carbohydrate
34 g
Dietary Fiber
6 g
Sugars
7 g
Protein
6 g
Dietary Exchanges
2 1/2 starch, 3 lean meat
Please sign in to add recipes to your Recipe Box.
Log In