Open-Face Tuna Melt with Oven-Baked Sweet Potato Chips
Whether for lunch or dinner, this Simple Cooking with Heart tuna melt with a side of sweet potato chips recipe gives off a diner-vibe with a healthy twist.
Ingredients
4 Servings
For the Sweet Potato Chips:
For the Tuna Melt:
10 min
Prep time
30 min
Cook time

4.05
Price per serving

314
Calories per serving

2.4 g
Sat. Fat per serving

512 mg
Sodium per serving
View Full Nutrition Info
collapse
Quick Tips

Cooking Tip: 1 (6.4-ounce) pouch of tuna can be used instead of 2 (5-ounce) cans of tuna since the pouches contain little liquid and practically all tuna.

Keep it Healthy: Even a healthy ingredient like whole-wheat bread can contain unwanted sodium. Always look at the nutritional breakdown on the back and choose bread that is naturally lower in sodium, such as Pepperidge Farm Stone Ground 100% Whole Wheat Bread, which has 65 milligrams of sodium per slice.

Tip: Broiler temperatures vary; always keep a close eye on anything under the broiler, no matter what time is indicated in a recipe.
Directions
Tip: Click on step to mark as complete.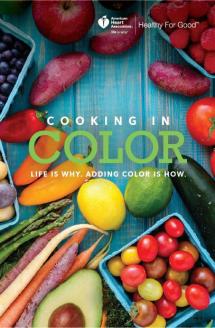 Like the Recipe? It and Many Others are Available in the Cookbook Below:
Purchase Cooking in Color
Copyright © 2018 American Heart Association, Healthy For GoodTM, heart.org/healthyforgood Every purchase helps fund the work of the AHA/ASA.
Calories
314
Total Fat
8.3 g
Saturated Fat
2.4 g
Trans Fat
0.2 g
Polyunsaturated Fat
1.4 g
Monounsaturated Fat
3.3 g
Cholesterol
33 mg
Sodium
512 mg
Total Carbohydrate
37 g
Dietary Fiber
6 g
Sugars
11 g
Protein
24 g
Dietary Exchanges
2 1/2 lean meat, 2 starch, 1 vegetable
Please sign in to add recipes to your Recipe Box.
Log In