Chunky Artichoke-y Salad
Artichoke hearts take center-stage in this salad, enhanced by crunchy sweet bell peppers and briny olives. Serve as is or on top of a bed of greens like arugula or chopped watercress.
Ingredients
6 Servings

1 cup
Serving size

164
Calories per serving

0.7 g
Sat. Fat per serving

109 mg
Sodium per serving
View Full Nutrition Info
collapse
Quick Tips

Cooking Tip: No time to thaw the artichoke hearts? Just cook them a little longer—up to 5 more minutes of simmering time.

Keep it Healthy: Using frozen artichoke hearts versus the marinated canned ones cuts down on a tremendous amount of sodium.

Tip: Finely chopping the artichokes, along with the other ingredients, turns this into a divine yet healthy dip to serve with pita chips.
Directions
Tip: Click on step to mark as complete.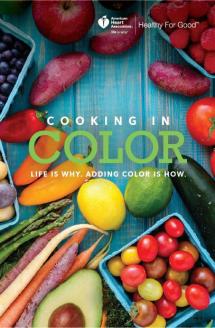 Like the Recipe? It and Many Others are Available in the Cookbook Below:
Purchase Cooking in Color
Copyright © 2018 American Heart Association, Healthy For GoodTM, heart.org/healthyforgood Every purchase helps fund the work of the AHA/ASA.
Calories
164
Total Fat
9.9 g
Saturated Fat
0.7 g
Trans Fat
0.0 g
Polyunsaturated Fat
2.7 g
Monounsaturated Fat
6.1 g
Cholesterol
0.0 mg
Sodium
109 mg
Total Carbohydrate
15.7 g
Dietary Fiber
10.2 g
Sugars
2.6 g
Protein
3.9 g
Dietary Exchanges
2 fat, 3 vegetable
Please sign in to add recipes to your Recipe Box.
Log In