Egg Avocado and Black Bean Breakfast Burrito
This perfect protein-based breakfast is easy to prepare the night before for a fast flavorful start to your day.
Ingredients
4 Servings

1 burrito
Serving size

289
Calories per serving

2.2 g
Sat. Fat per serving

218 mg
Sodium per serving
View Full Nutrition Info
collapse
Quick Tips

Cooking Tip: For a quick grab-and-go breakfast, make the burritos the night before and wrap them in parchment paper or wax paper. When you're ready to eat the burritos, microwave them on 100% power (high) for 2 to 3 minutes.
Directions
Tip: Click on step to mark as complete.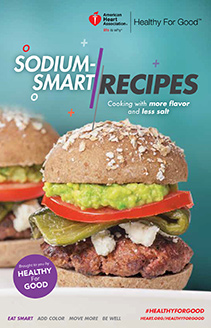 Like the Recipe? It and Many Others are Available in the Cookbook Below:
Sodium Smart Recipe Magazine
Copyright © 2018 American Heart Association, Healthy For GoodTM, heart.org/healthyforgood
Calories
289
Total Fat
15.1 g
Saturated Fat
2.2 g
Trans Fat
0.0 g
Polyunsaturated Fat
2.0 g
Monounsaturated Fat
9.9 g
Cholesterol
0 mg
Sodium
218 mg
Total Carbohydrate
34 g
Dietary Fiber
10 g
Sugars
2 g
Protein
12 g
Dietary Exchanges
2 starch, 1 vegetable, 1 lean meat, 2 fat
Please sign in to add recipes to your Recipe Box.
Log In