This perfect protein-based breakfast is easy to prepare the night before for a fast flavorful start to your day.
Nutrition Facts
Egg Avocado and Black Bean Breakfast Burrito

Calories
289 Per Serving
Protein
12g Per Serving
Fiber
10g Per Serving
Nutrition Facts
×
Calories
289
Total Fat
15.1 g
Saturated Fat
2.2 g
Trans Fat
0.0 g
Polyunsaturated Fat
2.0 g
Monounsaturated Fat
9.9 g
Cholesterol
0 mg
Sodium
218 mg
Total Carbohydrate
34 g
Dietary Fiber
10 g
Sugars
2 g
Protein
12 g
Dietary Exchanges
2 starch, 1 vegetable, 1 lean meat, 2 fat
Ingredients
Cooking spray
1 1/3 cups liquid egg whites
1 can no-salt-added black beans (rinsed, drained)
4 whole-wheat tortillas (lowest sodium available)
2 medium avocados (sliced)
1/4 cup hot sauce or salsa (lowest sodium available) (optional)
Directions
Lightly spray a large skillet with cooking spray. Heat over medium heat.
Pour the egg whites into the skillet, stirring constantly with a rubber spatula to scramble. Cook until the eggs are almost set. Add the beans, stirring until combined and heated through.
Microwave the tortillas on 100% power (high) for 45 seconds. (Makes them pliable and easier to roll.) Transfer to a work surface.
Spread the egg mixture in the center of each tortilla.
Top with the avocado and hot sauce or salsa.
Fold the bottom half of the tortilla up to almost meet the top half (leave about a 1-inch flap of tortilla). Then, pull back with your fingers on the filling area to tuck in the filling and form a roll. Next, slightly fold both sides in. With both sides folded, tightly roll the tortilla forward to create a burrito.
Cooking Tip: For a quick grab-and-go breakfast, make the burritos the night before and wrap them in parchment paper or wax paper. When you're ready to eat the burritos, microwave them on 100% power (high) for 2 to 3 minutes.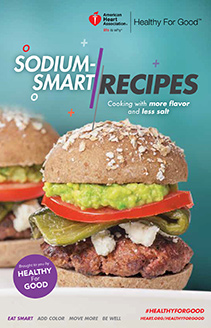 Sodium-Smart Recipes
This digest-sized booklet contains 28 recipes and photographs. It also contains information on how sodium affects overall health, a reference guide for sodium-free flavorings and provides American Heart Association's dietary recommendations.
Shop Heart