All the herby dill and garlic flavors of a Ranch dressing, just in popcorn form are in this Simple Cooking with Heart recipe. Stovetop popcorn only takes a few minutes and yet is both healthier and cheaper than microwave popcorn.
Nutrition Facts
Ranch-Chive Popcorn

Calories
184 Per Serving
Protein
3g Per Serving
Fiber
4g Per Serving
Cost Per Serving
$0.42
Nutrition Facts
×
Calories
184
Total Fat
10.5 g
Saturated Fat
0.9 g
Trans Fat
0.0 g
Polyunsaturated Fat
3.3 g
Monounsaturated Fat
6.2 g
Cholesterol
0 mg
Sodium
100 mg
Total Carbohydrate
20 g
Dietary Fiber
4 g
Sugars
0 g
Protein
3 g
Dietary Exchanges
1 1/2 starch, 2 fat
Ingredients
4 Tbsp. canola oil (divided)

OR

4 tablespoon safflower oil (divided)
3/4 cup popcorn kernels
1 1/2 Tbsp. dried chives
1 Tbsp. dried parsley
1 tsp. dried dill
1/2 tsp. garlic powder
1/4 tsp. salt
1/4 tsp. pepper
Directions
In a heavy-duty large pot, warm 1 tablespoon canola oil and a few popcorn kernels over high heat. Wait a couple minutes until these kernels have popped—this shows the oil is at the perfect popcorn-popping temperature.
As quickly as possible, add in remaining popcorn kernels and cover with a lid. Reduce the heat to medium-high. Using potholders and shaking the pot constantly as the kernels pop, cook until the popping slows down, about 3 to 4 minutes. Remove the pot from heat but keep the lid on; some remaining kernels may continue to pop.
In a small bowl, stir together oil and seasonings to combine.
Carefully transfer the hot popcorn into a large bowl. Drizzle with the herbed oil, tossing as you add the oil so all the popcorn is coated. Serve.
Cooking Tip: The common 3-ounce microwave popcorn will yield a little more than the 10 cups of popcorn in this recipe. Continue to follow the directions for the Ranch-Chive oil and drizzle over the microwave popcorn.
Keep it Healthy: Oils like canola, safflower, or olive oil are a heart-healthier alternative to drizzle over popcorn in place of butter.


Tip: If going the microwave popcorn route, make sure to choose the 94 percent fat-free variety. Also, compare the sodium content, aiming for bags with 30 to 40 milligrams of sodium per serving.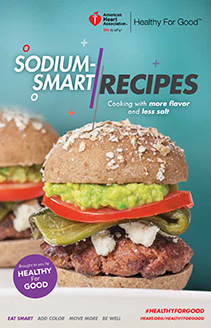 Sodium-Smart Recipes
This digest-sized booklet contains 28 recipes and photographs. It also contains information on how sodium affects overall health, a reference guide for sodium-free flavorings and provides American Heart Association's dietary recommendations.
Shop Heart