Simple Cooking with Heart offers this tasty fish with a kick in under 10 minutes. This recipe combines a delicious seasoning that's perfect with our strawberry kiwi salsa.
Nutrition Facts
Blackened Fish with Strawberry Kiwi Salsa

Calories
155 Per Serving
Protein
24g Per Serving
Fiber
3g Per Serving
Cost Per Serving
$3.58
Nutrition Facts
×
Calories
155
Total Fat
2.5 g
Saturated Fat
0.5 g
Trans Fat
0.0 g
Polyunsaturated Fat
0.5 g
Monounsaturated Fat
0.5 g
Cholesterol
57 mg
Sodium
355 mg
Total Carbohydrate
10 g
Dietary Fiber
3 g
Sugars
5 g
Protein
24 g
Dietary Exchanges
1/2 fruit, 3 lean meat
Ingredients
For the Blackened Fish:
4-4 oz fillet fish (4 ounces each; flaky white fish like tilapia, flounder or sole, or red fish work well – look for something you like that's on sale)
2 tablespoon chili powder
2 teaspoon garlic powder
2 teaspoon cumin
2 teaspoon paprika
1/2 teaspoon salt
For the Strawberry Kiwi Salsa:
1 1/2 cup diced strawberries (about ½ pound) (you can substitute cantaloupe melon or mango based on what is in season or on sale)
1 medium peeled, diced kiwi
1/2 medium peeled, diced cucumber
2 tablespoon chopped, fresh cilantro
2 teaspoon lemon juice
1/4 cup thinly sliced red onion (optional)
1/4 medium seeded, minced jalapeño (optional)
Directions
For the Blackened Fish:
In a small bowl, mix dry ingredients (chili powder, garlic powder, cumin, paprika and salt)
Generously coat fish with seasoning mixture on one side.
Spray frying pan or skillet with cooking spray, heat over high heat. Place fish in pan, seasoning side down and cook for 3 minutes. While cooking generously coat the other side with seasoning mixture. Flip fish and cook for 3 minutes longer.
For the Strawberry Kiwi Salsa:
Place all ingredients in a medium bowl and toss. Keep chilled until serving. Serve salsa over fish.
Tip: If time permits, make 1-2 hours before serving to allow juices and flavors to blend.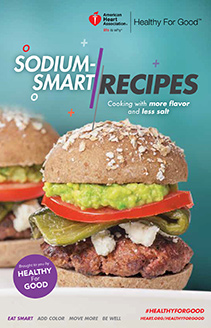 Sodium-Smart Recipes
This digest-sized booklet contains 28 recipes and photographs. It also contains information on how sodium affects overall health, a reference guide for sodium-free flavorings and provides American Heart Association's dietary recommendations.
Shop Heart