Bright orange carrot rounds are an attractive side dish for any entree. The brown sugar-soy glaze enhances the natural sweetness of this root vegetable.
Nutrition Facts
Copper Pennies

Calories
109 Per Serving
Protein
1g Per Serving
Fiber
2g Per Serving
Nutrition Facts
×
Calories
109
Total Fat
7.0 g
Saturated Fat
1.0 g
Trans Fat
0.0 g
Polyunsaturated Fat
1.0 g
Monounsaturated Fat
5.0 g
Cholesterol
0 mg
Sodium
58 mg
Total Carbohydrate
12 g
Dietary Fiber
2 g
Sugars
8 g
Protein
1 g
Dietary Exchanges
2 vegetable, 1½ fat
Ingredients
1 pound carrots, cut into 1/4-inch slices (pennies)
1 small onion, finely chopped
1 medium bell pepper (any color), finely chopped
1/4 cup olive oil (extra virgin preferred)
8 ounces canned, no-salt-added tomato sauce
1/3 cup apple cider vinegar
1/2 teaspoon Dijon mustard (lowest sodium available)
1/2 teaspoon soy sauce (lowest sodium available)
2 tablespoons brown sugar
Directions
Put the carrots in a medium pot. Cover with water. Bring to a boil over high heat. Reduce the heat to medium high. Cook for 5 to 8 minutes, or until tender-crisp, stirring occasionally. Stir in the bell pepper and onion. Cook for 1 to 2 minutes. Drain the vegetables well in a colander.
In the same pot, stir together the remaining ingredients. Cook over medium heat for 2 to 3 minutes, or until heated through and well combined, stirring constantly. Stir in the vegetables, tossing to coat. Serve warm. (Or, to serve as a cold salad, cover and refrigerate for 4 hours.)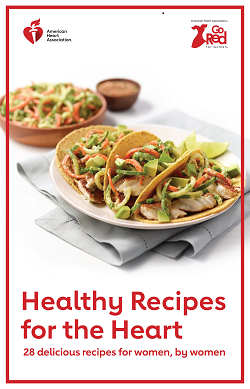 Healthy Recipes for the Heart
This digest-size recipe booklet contains 28 recipes, including Baked Flautas, Carne Asada with Chimichurri Sauce, Macaroni and Cheese with Spinach, Vegetable Migas, Jerk Tilapia Tacos with Zoodle Slaw, and Slow Cooker Thai Chicken Soup; blood pressure info and AHA recommended blood pressure levels; Blood Pressure Measurement Instruction infographic; an inspiring personal story shared by a GR Real Woman; full-color interior and photos; glossy cover; AHA dietary and lifestyle recommendations; Go Red Get Fit info; updated messaging and info about GRFW; and warning signs for heart attack and stroke.
Shop Heart