These great-tasting turkey-stuffed peppers make a great meal! And get a heart-healthy serving of brown rice in each one.
Nutrition Facts
Stuffed Peppers

Calories
252 Per Serving
Protein
26g Per Serving
Fiber
6g Per Serving
Nutrition Facts
×
Calories
252
Total Fat
1.5 g
Saturated Fat
0.5 g
Trans Fat
0.0 g
Polyunsaturated Fat
0.5 g
Monounsaturated Fat
0.5 g
Cholesterol
53 mg
Sodium
68 mg
Total Carbohydrate
34 g
Dietary Fiber
6 g
Sugars
10 g
Protein
26 g
Dietary Exchanges
3 lean meat, 1 starch, 3 vegetable
Ingredients
4 bell peppers (any color)
3/4 lb. lean, ground turkey
1/2 medium onion (chopped)
1/2 cup uncooked brown rice
14.5 oz. canned, no-salt-added, diced tomatoes
1 clove fresh, minced garlic (or 1 teaspoon garlic minced from jar)
1 tsp. reduced-sodium Italian seasoning (lowest sodium available)
1/4 tsp. crushed red pepper flakes (for spiciness), (optional)
8 oz. canned, no-salt-added tomato sauce
Directions
Preheat oven to 350 degrees. Cook rice to package instructions (omitting salt). While the rice is cooking, in skillet over medium heat, brown the turkey. Add the onion and cook for 3 minutes more (until onion becomes translucent).
Wash the bell peppers and remove the tops, seeds and membranes. Set peppers in a 9x9 baking dish or line them up in a loaf pan, so they stand upright.
In a medium mixing bowl, mix turkey, rice, tomato, garlic, Italian seasoning, and pepper. Spoon into each pepper. Spoon tomato sauce evenly over the top of the 4 peppers. Bake 1 hour in the oven, until peppers are tender.
Tip: 1 stuffed pepper per serving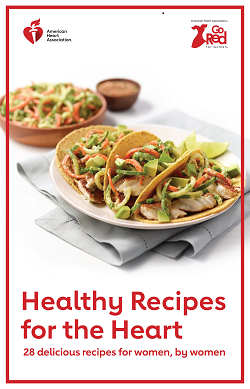 Healthy Recipes for the Heart
This digest-size recipe booklet contains 28 recipes, including Baked Flautas, Carne Asada with Chimichurri Sauce, Macaroni and Cheese with Spinach, Vegetable Migas, Jerk Tilapia Tacos with Zoodle Slaw, and Slow Cooker Thai Chicken Soup; blood pressure info and AHA recommended blood pressure levels; Blood Pressure Measurement Instruction infographic; an inspiring personal story shared by a GR Real Woman; full-color interior and photos; glossy cover; AHA dietary and lifestyle recommendations; Go Red Get Fit info; updated messaging and info about GRFW; and warning signs for heart attack and stroke.
Shop Heart