Check out this Dominican inspired, Simple Cooking with Heart dish featuring pink beans called Habichuelas Rosadas a la Caribeña, which means Caribbean Pink Beans. Beans are one of the most economical and nutritious protein foods around. And dried beans cost just pennies per pound -- a terrific and versatile food to always have in your heart healthy pantry.
Nutrition Facts
Habichuelas Rosadas a la Caribeña (Caribbean Pink Beans)

Calories
218 Per Serving
Protein
22g Per Serving
Fiber
4g Per Serving
Cost Per Serving
$0.51
Nutrition Facts
×
Calories
218
Total Fat
11.0 g
Saturated Fat
1.5 g
Trans Fat
0.0 g
Polyunsaturated Fat
3.0 g
Monounsaturated Fat
5.5 g
Cholesterol
69 mg
Sodium
235 mg
Total Carbohydrate
7 g
Dietary Fiber
4 g
Sugars
1.5 g
Added Sugars
0 g
Protein
22 g
Ingredients
1 lb. pink beans (you can substitute pinto or light red kidney beans, but you will need to increase cooking time of the beans by 15-30 minutes)
8 cup water
2 Tbsp. chopped cilantro

OR

2 tsp. dried cilantro
2 Tbsp. chopped parsley

OR

2 tsp. dried parsley
28 oz. canned, crushed, no-salt-added tomatoes
1 red pepper (finely chopped)
1 small white onion (finely chopped)
3 tsp. jarred, minced garlic
Directions
Rinse and sort beans, removing any rocks. Soak the beans per package instructions overnight.
Drain beans and return to large pot with 8 cups of water. Bring to a boil and reduce to medium heat, let cook for 90 minutes, stirring occasionally until beans are soft.
Add cilantro, parsley, tomato, pepper, onion, and garlic and cook 20 minutes more.
Serve with brown rice for meal or as a side to another dish.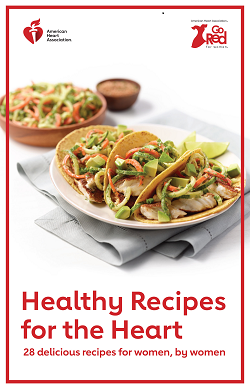 Healthy Recipes for the Heart
This digest-size recipe booklet contains 28 recipes, including Baked Flautas, Carne Asada with Chimichurri Sauce, Macaroni and Cheese with Spinach, Vegetable Migas, Jerk Tilapia Tacos with Zoodle Slaw, and Slow Cooker Thai Chicken Soup; blood pressure info and AHA recommended blood pressure levels; Blood Pressure Measurement Instruction infographic; an inspiring personal story shared by a GR Real Woman; full-color interior and photos; glossy cover; AHA dietary and lifestyle recommendations; Go Red Get Fit info; updated messaging and info about GRFW; and warning signs for heart attack and stroke.
Shop Heart