You will love this Simple Cooking with Heart Mexican recipe because it's simple to make, it's heart healthy and budget friendly.
Nutrition Facts
Black Bean Soup

Calories
245 Per Serving
Protein
15g Per Serving
Fiber
11g Per Serving
Cost Per Serving
$1.36
Nutrition Facts
×
Calories
245
Total Fat
0.5 g
Saturated Fat
0.0 g
Trans Fat
0.0 g
Polyunsaturated Fat
0.0 g
Monounsaturated Fat
0.0 g
Cholesterol
0 mg
Sodium
34 mg
Total Carbohydrate
45 g
Dietary Fiber
11 g
Sugars
12.9 g
Added Sugars
0 g
Protein
15 g
Ingredients
nonstick Cooking spray
1 medium onion (diced)
1 tablespoon garlic (jarred, minced)
2 teaspoon ground cumin
1 jalapeño (chopped)
2 16- ounces canned, low-sodium black beans (undrained)
1 15- ounces canned, no-salt-added, diced tomatoes (undrained)
1 cup low-sodium chicken broth
chopped, fresh cilantro (optional)
Directions
Spray large pot with cooking spray, over medium-high heat add onion and cook until translucent (5 minutes).
Add garlic, cumin and jalapeno and cook 1 minute more.
Add beans to pot and lightly mash with a potato masher or fork.
Add tomatoes and broth – bring to a boil and reduce to medium heat, cover and simmer for 15 minutes.
Serve topped with chopped fresh cilantro (optional).
Tip: Serve this as a side salad to a meal or warm in microwave and use as a filling for tacos!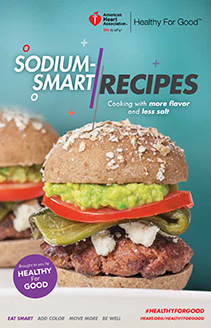 Sodium-Smart Recipes
This digest-sized booklet contains 28 recipes and photographs. It also contains information on how sodium affects overall health, a reference guide for sodium-free flavorings and provides American Heart Association's dietary recommendations.
Shop Heart