Check out this Simple Cooking with Heart recipe featuring the ultimate American comfort food: meatloaf served with black-eyed peas -- a hearty-healthy side from the South.
Nutrition Facts
Meatloaf with Black-Eyed Peas

Calories
322 Per Serving
Protein
40g Per Serving
Fiber
7g Per Serving
Cost Per Serving
$2.61
Nutrition Facts
×
Calories
322
Total Fat
3.5 g
Saturated Fat
1.0 g
Trans Fat
0.0 g
Polyunsaturated Fat
0.5 g
Monounsaturated Fat
1.5 g
Cholesterol
132 mg
Sodium
138 mg
Total Carbohydrate
31 g
Dietary Fiber
7 g
Sugars
7.4 g
Added Sugars
0 g
Protein
40 g
Ingredients
For the Black-Eyed Peas:
31 oz. canned, low-sodium black-eyed peas
For the Meatloaf:
1 small onion (finely chopped)
1 medium bell pepper (any color), finely chopped
1 tsp. extra virgin olive oil or vegetable oil
2 clove minced, fresh garlic

OR

1 tsp. jarred, minced garlic
2 Tbsp. fat-free, skim milk
1/3 cup quick-cooking oats
1.5 lb. extra-lean, fat-free ground turkey (95% or 99% lean) (can substitute extra lean ground beef or pork)
2 eggs (beaten)
1 Tbsp. Dijon mustard
8 oz. canned, no-salt-added tomato sauce (divided use)
1/4 tsp. black pepper
1 tsp. dried parsley
1 tsp. cider vinegar
non-stick Cooking spray
Directions
For the Black-Eyed Peas:
Heat (un-drained) in microwave-safe covered dish on high for 5 minutes, or until warm.
For the Meatloaf:
Preheat oven to 350 degrees.
Place onions and bell pepper in a glass 9x5 loaf pan, drizzle with oil and toss to coat.
Cover loaf pan with a plate and microwave on high for 3 minutes (NOTE: if you are using a metal loaf pan do NOT put it in the microwave!). Allow vegetables to cool slightly.
In a medium bowl, combine vegetables, minced garlic, milk, oats, turkey meat, eggs, mustard, 2 tablespoons of tomato sauce, pepper and parsley - mix well with hands.
Spray loaf pan with cooking spray. Shape meat mixture into loaf and place in loaf pan.
In the medium bowl, mix remainder of tomato sauce and cider vinegar, pour over loaf.
Bake for 50-60 minutes until internal thermometer reads 165 for poultry and 160 for beef or pork. Let stand for 5-10 minutes and slice.
Tip: Make mini-loaf by baking in muffin tins. These individual sized mini-loaves are great for freezing, fun for kids, or a great alternative if you're in a rush because they only cook for half the time!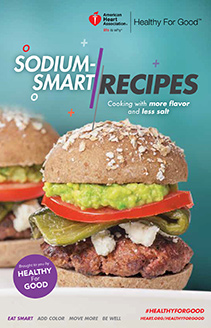 Sodium-Smart Recipes
This digest-sized booklet contains 28 recipes and photographs. It also contains information on how sodium affects overall health, a reference guide for sodium-free flavorings and provides American Heart Association's dietary recommendations.
Shop Heart